Digital signage for churches is probably not something that immediately comes to mind when people think about what congregations can do to let people know what they have to offer. However, using one of these signs can be an essential way to reach out to both members and visitors. The use of digital signage can resolve a lot of difficulties that congregations face.
Many of the best church digital signage examples show how the use of this technology can help houses of worship inform everyone about what is going on. Better engagement with the community that includes both members and non-members makes all the difference.
What Are the Challenges Congregations Face?
Funding and support from both members and visitors are an ongoing problem for many congregations. The most recent announcements and news may be difficult to get out to those who do not follow the group on social media.
As marketing and other operating costs can consume much of a congregation's budget, many faith communities want to reduce these costs to better serve their members' and the broader community's needs.
Another concern is offering activities and opportunities to make the community more engaging and supportive.
Making the Organization More Visible
Digital signage for churches, digital signage inside a church, as well as outdoor signage, help attract attention more effectively. Digital signs can attract four times more attention than static signs over time. When placed outside, passersby will pay more attention to what they see on a digital sign than one that is static.
The best digital signage for churches will often include a mixture of video wall displays, which help provide information to members, and outdoor displays. One of the most significant advantages of outdoor signage is delivering messaging to more people.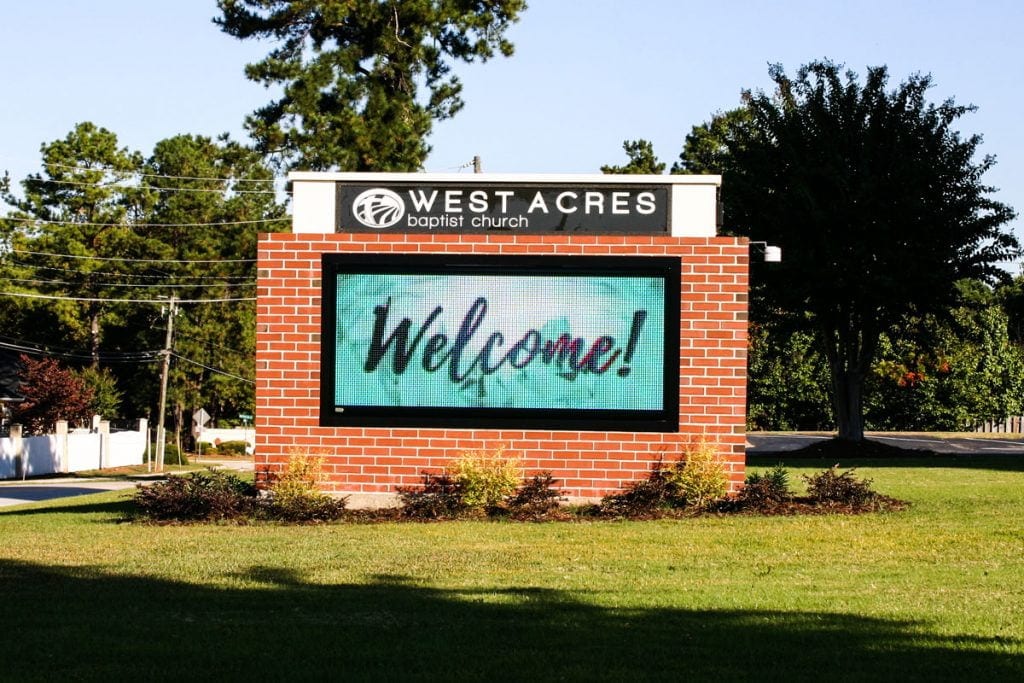 Modernizing the Facility
One of the things that stands out the most about digital signage solutions for churches is their ability to broadcast inspirational messages. These digital products can also help show services times, directions on where to find childcare or classroom areas, and how to contact key ministry leaders.
Electronic messaging can also be a good way of making the order of service available to members and visitors. These solutions eliminate the waste involved with print bulletins and also reduce the need for print hymnals or prayer books.
Keeping Information Up-to-Date
Using digital signage in church makes it easier to update information that everyone needs. The updated information is easy to display at the time that it is needed the most, and to selected audiences if there is more than one sign in use.
Another advantage is how quickly the signage can be updated, especially when there are important updates. The faster information can be delivered to interested parties; the more significant the difference the signage will make.
Improving Communications Among Members
Important news and announcements are easy to transmit to members and visitors through outdoor church digital signage and indoor options. One advantage of digital signs is that the schedules for upcoming activities are available for people to view easily.
Announcements about activities during the week can also appear in these settings. Congregations' offices can avoid having to devote extra bulletin space to notifications about these events.
Church Digital Signage Enhances the Worship Experience
The church digital signage software also makes more immersive experiences possible. For activities like reading, meditation, or prayer, audio or visual elements can easily add to the experience.
Sermons or greetings from ministerial staff are easy to broadcast with these systems. Although not a substitute for in-person interactions, these live streams can help give visitors a good idea of what to expect during the service or event.
The digital screens also allow sermon or service live streams throughout the facility. Parents taking young children to quiet areas no longer have to worry about missing anything.
These systems work well for religious education classes for all ages. The screens are a perfect size for showing lesson plans, presentations, and other items.
Reducing Advertising and Marketing Overhead
Staff can use digital signage solutions to use variation in their messaging. Because there are no printing costs, the team will be able to cut costs. There is also a greater level of control over the messaging, without the mistakes that can occur with printing.
One situation that has lead to houses of worship delivering more timely information is the Covid-19 pandemic. Updated messaging can provide guidance about the use of masks, the location of hand sanitizer stations, and social distancing practices.
Digital Signage for Churches to Save Time
Another advantage of digital signage software is being able to update the information within minutes, at the most. The days of waiting for staff to update signs manually are over.
Facility staff also no longer have to worry about having to use ladders to reach signs that are otherwise out of reach. Digital options that can be updated using software save a lot of labor hours.
Digital Signage Protects the Environment
Printing materials and having them delivered increases costs, and also increases the environmental impact. Congregations that want to reduce their carbon footprint can benefit from reducing the use of print materials.
Many faith communities have committed themselves to better environmental stewardship. The use of digital messaging not only makes this process more accessible but also provides a way to communicate these changes.
Increasing Technology ROI
The ability to change the messaging according to liturgical seasons, as appropriate, helps faith communities make the most of their technology budgets. These screens make it easier for leadership to offer their encouraging messages whenever possible.
Because digital messaging increases retention rates, the office staff will have to allocate fewer resources to getting messaging out more than once. The signage will help pay for itself through better messaging retention.
Better Community Engagement
The screens can display social media feed for a greater sense of community involvement. Photos of activities and events, as well as birthday and anniversary announcements, can help increase the sense of involvement.
Members are more likely to spend time checking out what is displayed. As they catch up on information about events and milestones, they can also read more about volunteer opportunities, fundraisers, and similar information.
Putting It All Together
The main question: is digital signage worth it for churches and other religious communities? Yes! Digital signage can help to create an engaging community and help bolster up support.
Unsure of where to start? Contact our digital signage experts today for a free consultation.
You can learn more about NexSigns' Digital Signage solution and connect with us on Facebook, LinkedIn, Twitter, and YouTube to get the latest info on digital signage!