"It's a lovely sunny day out, we drive to XYZ fast food restaurant's drive thru, we can barely see the menu board (signage), and as we squint to see the menu, there are 200 items displayed (more like 20)."
That's a common complaint for your drive thru service, right?
No?
That's because your Quick Service Restaurant's (QSR) drive thru experience is excellent, or, maybe your QSR's speed to market is slow; for example, you want to show "Mango Raspberry" drink as your new promotion on a sunny day but you can't because of a cluttered menu board, or the lack of, a digitalized menu board with day-parting features.
Here's an example;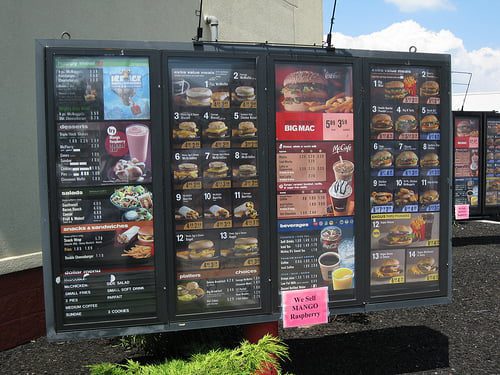 Regardless, you're here on behalf of your QSR, looking to improve the drive thru experience for your customers. Well done; because you care about your customers and you want to create the ultimate drive thru experience for them.
The drive-thru customer experience is all about speed and convenience. Having the right menu and message at the right time is important. In the past, business owners had two choices: Display all menu items — breakfast, lunch and dinner — on the one menu board all day long or use two-sided menu boards that could be flipped around. Sounds tedious right?
A simple price change or menu switch-out for static menu boards would take businesses weeks due to the graphic design time, approvals, printing and shipping.
NOT CONVINCED YOU NEED TO LET GO OF THE OLD STATIC MENU BOARDS?
Well, don't worry, I have got just the right tips to convince you.
Why Digital Signage?
An estimated 70 percent of sales that take place at restaurant drive-thrus occur at the drive-thru windows. Another 8 percent in sales can be captured with impactful digital signage.
QSR's typically used static, printed menu signage in their drive-thrus, limiting each restaurant's flexibility to change menu items, prices, or promotions based on market conditions, and forcing the organizations to incur costly printing expenses each month.
As profit margins are squeezed, competition increases and operational costs rise, QSR's are looking for new avenues to boost revenue. Restaurateurs are discovering that the right drive thru digital signage gives the much-needed value differentiator to surpass the competition.
So, here are 5 ways that digital signage can improve your drive thru experience:
1. Dayparting
Dayparting is the practice of dividing a day into segments and using different forms of programming for each of those time slots. In the context of digital signage, it refers to offering the right content at the right time of day for a specific audience.
To every QSR, dayparting is the standard every type of customer is coming to expect.
Let me paint a lovely picture for your QSR.
You have an exciting new promotion, let's call it "Happy Hour" promotion, wherein, cold drinks during 3-5 PM are half-priced. You want to capitalize on summertime sales, so the business opportunity is here and now. Well, with successful dayparting, you can schedule that promotion way ahead of time, or at high-traffic times, or just specific times of the day.
You need a visual of dayparting with Digital Signage? I got you.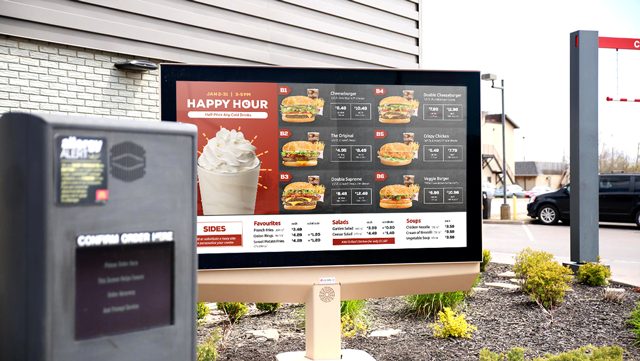 Look at how easily readable that promotion looks, you do not need to compromise on your cash-cows (top-sellers); while at the same time, you can showcase your product promotions, and limited-time offers.
2. Conditional Contextual Systems
Complex term, right?
However, simply put, a conditional contextual system helps your QSR capture exactly what your customer is experiencing during a specific time of day, by displaying products via your digital signage according to the weather outside.
It's freezing outside. A hot chocolate for you, kind sir/ma'am.
It's hot outside? No worries; cool your insides with our new berry refresher.
How is this possible?
Using Artificial Intelligence, your digital signage (that's right, we have it) can automatically detect weather conditions, and push products and offers accordingly.
Climate change is real and now, and with the weather changing as fast as the newest social media craze (It's Tik Tok, apparently), it's important for QSR to look at this as a potential revenue generator. Delivering "personalized" menu items, wherein, customers' are shown specific menus/promotions, depending on the weather outside is an untapped QSR market with a lot of potential. Furthermore, it improves an organizations' flexibility to adapt to changing market conditions and displays an increased speed-to-market.
3. Visually Appealing Animations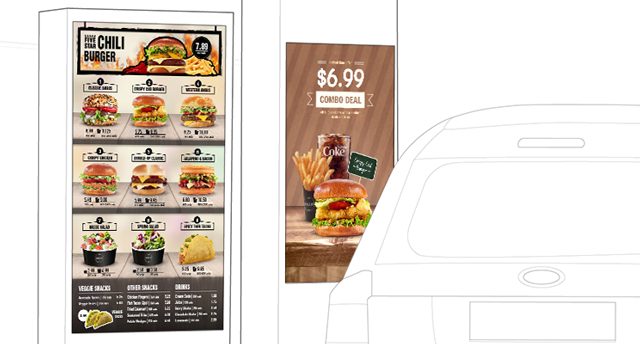 Now, as we know, improving the customer experience is where the money is at. Hence, the way your menu is presented at the drive thru is key to driving sales. Why? An easy-to read menu prompts quicker buying decisions, speeding up the drive thru lane, which ultimately leads to a positive, and happier customer experience.
Let's be honest, "Us", and by "Us", I mean, us humans are in a "I WANT IT NOW" mode. With menu boards being your first interaction with the consumer, it's imperative that a simple and visually appealing menu layout not only attracts customers, it keeps them coming back for more.
74 percent of fast food lovers put an easy to read menu at the top of the priority list when heading for the drive thru lane, according to screen giants Panasonic. Studies have shown the most effective boards are highly visual, with minimal print.
Strategic Tip – Digital menu boards can "localize" pricing efforts and display visually appealing product photos to help guests quickly view their choices and spot exactly what they would like.
4.     Marketing
We haven't yet touched on one very important benefit of digital signage – Marketing.
Your signage reflects your brand, and with visually appealing digital menu boards at your drive thru, it's an indicator that your brand is a "chameleon". Simply put, forward thinking and adaptable to market conditions.
The rise of digital signage has enabled operators to start their marketing efforts at the first touchpoint between the consumer and the brand: the drive thru.
Before Digital Signage, If a drive thru had to display secondary messages like new promotions, specials or menu items, the manager had to send their staff to physically change the images with a ladder or pole.
It was a time-consuming process, and the images were analog and hard to change.
Digital signage is a value differentiator by essentially being the equivalent of your 24-7 outdoor marketing department.
Digital signage is easier to change and synchronize marketing efforts between the outside and inside, is customizable, and is not limited to pre-set size parameters like panels or posters. You can promote targeted, multiple offers in a much more appetizing way, using both animation and video footage.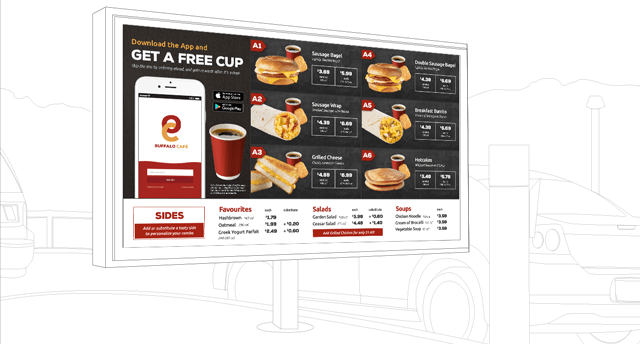 The illustration above is a perfect example of synchronizing your marketing efforts, as well as, mobile integration, wherein you encourage customers to interact with your brand, and potentially win a free drink, like a cup of coffee.
5.     ROI
We now know that two-thirds of QSR traffic is coming via the drive-thru. Let's say for example you spend around $10K getting your indoor digital menus done right. Would you consider doubling that investment for your outdoor audience, with drive thrus being your main revenue stream anyway?
You've done the ROI calculation and determined that you can achieve economies of scale and a shift in revenue by a 12-month timeframe. Now, if you could spend $15-$20K (including license, installation, electricity, design costs), it would be logical to expect the same twelve-month return.
Furthermore, with a global content distribution system, organizations can achieve economies of scale from an ability to control and schedule all content electronically from a single point of control.
ROI is your Endgame; Hence, I do suggest reading an important article tackling 5 key points of wisdom to improve ROI for drive-thru digital signage.
Just like any investment, time is of the essence. There is good news, with change being the only constant in this tech-driven world, the cost is now low enough that the ROI for outdoor digital signage is surpassing the ROI of the interior digital menu boards.
Conclusion
The key to QSR drive thru success will always be maintaining high levels of customer friendly service; however, where digital signage plays a vital role is essentially providing all the variety that customers get when they come inside a QSR, be it mobile ordering, promotions, visually appealing menus and easy payment options.
You can learn more about NexSigns' Digital Signage solution and connect with us on Facebook, LinkedIn, Twitter, and YouTube to get the latest info on digital signage!