Digital Signage has proven effective for many years worldwide. We live in an era where digital screens and displays have become irreplaceable. Hence, many industries, like retail, have adopted Digital Signage for their business to broadcast marketing messages to their audience. The ultimate question remains: What is Retail Digital Signage, and what it can do for your business?
Digital signage is a sub-section of electronic signage used for public display. Brands and businesses use them to convey information and advertise their campaigns. Moreover, digital signage is digital screen displays or digital signs that use LED, LCD, e-paper, and projection as a means of communication. Typically, the signage can display digital videos, images, HTML web pages, social feeds, static ads, weather data, menu text, items, and other relevant information. 
Importance of Digital Signage Solutions for Retail
Grand View Research predicts the global digital signage market to grow to $31.71 billion by 2025. As such, industry growth is constantly on the rise. Here's why:
Engaging and converting prospective clients through displaying multiple messages
Enhancing chances of advertising within restricted spaces
Familiarizing customers with brand tone by conveying timely messages
Improving physical spaces outlook to align with business branding
Delivering robust ROI by lowering the cost of printed material and shipment logistics
Cutting travel expenses by connecting virtually with remote staff in real-time
How Do Best Digital Signage Solutions for Retail Work?
Before proceeding further, you need to first figure out what are your business objectives, and what you are using digital signage for. After you have clearly defined your goals, then there are 3 major aspects you need to consider when looking for Digital Signage:
1. Digital Signage Hardware
Digital Signage hardware is often referred to as a media player. There are many different media players on the market, from simple USBs to advanced computers. Which media player you need for your business will depend on your budget, business needs, and the amount of control you wish to have.
Ideally, you would want to look for digital signage hardware that meets the following criteria to ensure Digital Signage demonstrate the best performance:
Act as a minicomputer running systems like Windows, Android, or Linux
Customized and installed with pre-designed proprietary signage software, so that it can prompt the remote server to download or update content
Compatible with the software, so you don't need to worry about any glitch 
2. Digital Signage Software
Digital signage software solution acts as a medium used to run your content smoothly. You can find various digital signage software solutions available include content creation software, content management software, rule-based software, playlist-driven software, device management software, media player software, and others. The content management system is very different among the different providers, and it will depend on your business needs to figure out what features you would need for your business. For example, suppose you have a team creating content for the company. In that case, it could be feasible to use a solution that focuses on helping you deliver and distribute the content efficiently. Conversely, if you lack the infrastructure to create materials, you might want to consider software that offers template solutions.
Human Capital: This is the staff or team in charge of deployment, implementation, and analysis of the digital screen display projects.
The Content: You'll need to create relevant, customized content that captures your customers' attention. Optimized these digital content with a call-to-action will likely engage with your audience more.
Display Screen(s): That entails any retail or commercial grade displays for your outdoor or indoor signage, including TV, kiosks, Menu boards, or iPad.
Where to Use Digital Signage in Retail Stores and Malls?
Research revealed that 80% of brands that use digital signage report a substantial rise in sales (up to 33%). Many businesses have adopted digital signage to their business. You can find them at many places, such as retail stores, hotels, restaurants, and corporate buildings. You can also find digital menu boards at many places that provide food services.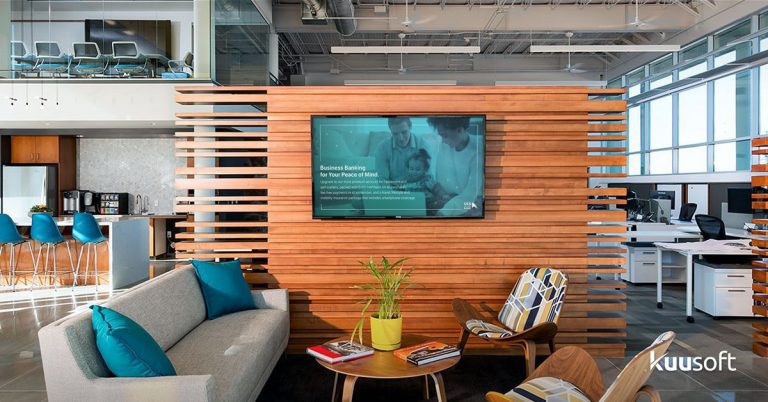 In retail, space, time, and attention is money. So, it should be in your best interest to make sure you use retail digital signage to its full potential. Here are the best 8 places for digital signage:
This is an ideal option for stores that have limited floor space. By having retail digital signage have the wall, you can attract your customer's attention to your promotions without creating any barriers for them to shop in the store.
Aisle endcaps signs are excellent for displaying best-selling or promotional products to your customers while they shop. This will allow you to capture upsell opportunities and motivate your customers to make impulsive purchases.
You can use video walls to create a "wow" factor and attract passers-by to visit your stores. If you do not have wall space to mount display screens, you can also consider using kiosks to display promotional messages to your customers. On top of that, you can also add interactive elements (touch screens) to your kiosks to spark the customer's interest and find out more about your offers.
Have retail digital signage in high-traffic areas to display real-time information, make PSAs, safety alerts and tips, promotional offers, and other messages that you wish to reach out to as many people as possible. You can also show digital directories to guide everyone to where they want to be.
Installing digital signage next to the point of sale is excellent for cross-selling and upselling products to boost up your revenue. It offers visual interest for clients waiting in line and reminds them of products they might want to purchase next time. You can also incorporate retail digital signage with the self-checkout system to promote membership perks or limited-time offers.
6. At Customer Service Counters
The longer a client waits at the service counter, the worse the customer experience. Fortunately, retail digital signage can make that customer service experience better. The digital screen can shorten the perceived waiting time by showing helpful tips and information with vivid animations.
With digital signage in waiting areas, you can show help tips, interesting content, and promotional campaigns with stunning visuals to distract customers' attention and reduce their perceived wait time. 
Digital signage can serve as a convenient way to communicate between the storefront and back. Display up-to-date information to keep your staff in the loop and help them focus on the goals. You can also segment your screen so your staff can see timely information with television programming.
How to Use Retail Digital Signage with Your Marketing Strategies?
The main aim of digital signage is to convey your messages to the customers effectively. Unlike traditional printed signs, digital signage can update and distribute your marketing campaigns and content updates to multiple screens at multiple locations with ease. The content you should display will depend on your business goals and marketing strategies. To help you get started, we have compiled a few aspects you should consider when you want to create content to display on your digital signage:
The word is evolving rapidly, and so are people's expectations. You want to be innovative, creative, and wild with your ideas. Before creating the content, you should start with brainstorming and planning out elements, such as identifying your target audience, setting up your business goals, and evaluating what would be the best way to reach your objectives. You should also consider the current market trends, seasonal elements (like winter holidays), and customers' behaviors based on different periods of the year. This will allow you to create relevant marketing campaigns that give you the best opportunity to capture your existing and potential customers.
Create marketing campaigns based on real-time data to meet what your customers may be looking for in the market. We all know that timing matters. Retail digital signage will display all your up-to-date promotional content with just a few clicks. On top of that, this will help you cut down the time, cost, and resources that you usually have to spend when using traditional printed signs.
Studies reveal that 90% of the information conveyed to the brain is visual. Digital screens can vividly display all your content and campaigns with animated effects and vibrant colors. You can display image and video content (or combine video and audio together) with your promotional messages to catch your customer's attention and motivate them to take action.
Introduce incentives to potential customers so they will take the actions you wish. There are many ways to offer the incentives, and here are some examples:
Seasonal Sales to give the customers the opportunity to purchase the items they want before the season is over
Off-Season Sales to trigger impulse purchasing and give them an excuse to buy items before the season starts
Limited-Time Offers to trigger customers who enjoy benefitted from offers with time-constraint
Anniversary Sales to welcome more customers to celebrate and boost up your sales
Holidays Sales to capture the time periods where customers are more likely to make purchases compared to other times of the year
Interactive Activities that offer some giveaways (such as virtual spinning wheels) to keep people interested and engaged
Membership Perks to motivate more people to join your programs and convert them to loyal customers
Brand Message and Achievements to build credibility and trust among the audience
5. Omnichannel Experience
Another element to consider is the omnichannel experience. Businesses are switching to omnichannel experience fast; if you haven't, then you should consider about this in your plan. Omnichannel experience employs several channels, including websites, mobile apps, and social media feeds, to create a cohesive sales lead. Omnichannel experiences need to stretch your overall business media. That way, clients can skim through your online presence before stepping into your physical store. Thus, you should align your channels with digital screens with consistent information to avoid discrepancies.  
Do and Do not With Your Retail Digital Signage
Now, you should have a better idea and ready to proceed further to get digital signage running at your stores. Before you execute your plan, here are some additional things you should keep in mind:
Digital display can turn a prospect into a customer. But to do that, ensure the in-store displays are engaging enough to draw them in. Unfortunately, many businesses use digital signage as traditional printed signs and over-crowded the screens with dull content. To eliminate the display dullness, you should make it visually appealing by adding motions with vibrant animations and colors.
Don't over-crowd your digital signage with complicated content because customers will not be able to read it easily. Too many product displays can confuse customers and thus lower the effectiveness of your campaign efforts. So, instead of displaying product range, you can promote your best-selling or featured items that can give you highest ROI. This way, you can direct the customer's attention to where you want them to be.
3. Interactive or Entertaining Elements
If your display doesn't interact with your clients, you should consider adding flavors to the interactions. Today, offering clients an immersive retail experience is extremely vital. But you need to offer more if you want to stand out. So, if you are selling eatables, for instance, you can offer samples to try. Perfume counters can also offer scent samples. That can increase engagement and eventually boost your sales.
4. Deliver Inspiration and Leave Great Impression
Today, there are many stores in one lane or the same area. Hence, people go in and out of them at an outstanding pace. To compete effectively, you should have something that'll leave a long-lasting impression on the client's mind. Several resources online platforms such as Instagram, Clubhouse, and Pinterest can offer inspiration on store displays. You could also borrow an idea from your competition and add your unique touch to them.
5. Keep Your Displays Modern and Up to Date
Nothing scares customers away like an outdated store. Outdated displays and content send the message that you don't care about your business, or you aren't earning. If you want to maximize sales, you should update your store display continuously. Using digital signage can help spice up your store and keep things updated. They're easy to use, modern, appealing, and you can change the content from anywhere. Furthermore, you could schedule the timings of each change.
A Final Note On Using Best Digital Signage Solutions for Retail
If you've been searching for a way to boost your revenue, customer experience, and visual interest in your store, digital signage is ideal for you. Hopefully, this post has helped you understand what is digital signage, where to use it, and why it can be so helpful in retail.
Digital signage has numerous uses in the retail world- from showcasing product features to offering customer entertainment. It can also keep your content fresh and show your progress to the customer. Besides, it allows you to make the most of seasons by customizing messages, incentives, offers, and more to the season.