Many grocery stores and supermarkets overlooked one essential communication component: signage placement. Grocery store digital signage is crucial as it helps grocery stores and supermarkets build their brand images while sharing promotional information with shoppers.
Having a well-designed grocery store digital signage is not enough. Without optimal placements, business owners cannot maximize the visibility of their campaigns and amplify the impact. In this blog, we will explore a few placement ideas that help grocery stores and supermarkets make the most of their digital signage.
Understand Your Shoppers & Their Behaviors
Before we dive into the details, you need to understand your target audience and their behaviors. After all, if your shoppers are not interested in what you have to offer, then you are wasting your time, resources, and budget.
How and what to do to understand your target audience? Start by identifying factors like foot traffic, purchase intention, and interests. For example, if your shoppers are sales-driven, you should consider placing your grocery store digital signage near the store entrance to share special sales and offers with them immediately.
Grocery Store Digital Signage Placement Ideas
Once you understand your target audience and their behaviors, the next step is the locations to place your grocery store digital signage with relevant content. Here are a few placement ideas to help you get started:
Placing your grocery store digital signage is a no-brainer. Studies show that customers are 80% more willing to visit a store that displays digital signage. Consider having your digital signage at the store entrance and the storefront to ensure your grocery store's digital signage is the first thing shoppers and passers-by see.
Unlike traditional paper posters, digital signage shares information with captivating images and vibrant colors, catching the attention of shoppers and passers-by. When you have digital signage at your storefront, consider displaying promotional campaigns, membership perks, or any information you want shoppers to know.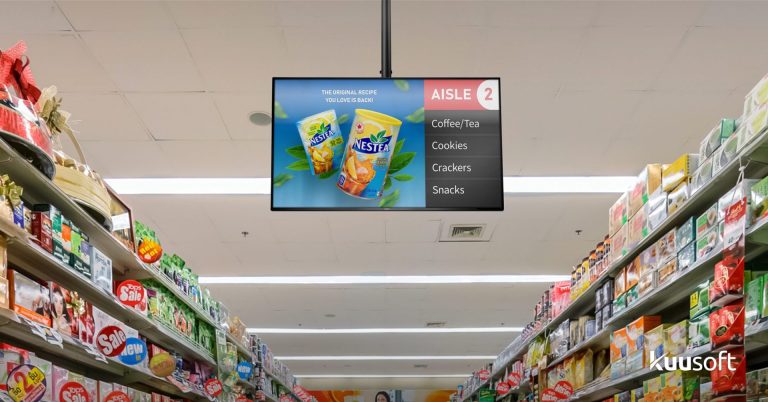 Grocery store digital signage converts traditional static paper aisle signage to dynamic promotional boards. With digital signage, you can guide customers in the right direction while showcasing the latest or promoted items. If you want to make any changes, you can easily update your digital signage content with minimal delays, no re-print required.
3. Consider Other High-Traffic Areas
There are many other high-traffic areas throughout your grocery store or supermarket. Always have grocery store digital signage in high-traffic areas to ensure your signage has maximum visibility. These areas may include busy intersections, fruit & vegetable sections, bakery sections, and more. Consider installing ceiling-mounted signage to follow the size, height, and space limits.
If your grocery store or supermarket offers delis, consider having digital menu boards to display your specials, attract shoppers to drop by, motivate customers to make purchasing decisions, and boost overall revenue. Present your menus vividly and switch to different offerings, from breakfast to dinner. With the dayparting feature, your menus will change automatically throughout the day.
5. At the Check-out Cashier Area
Keep your customers shopping while they wait in the checkout line. The cashier is the perfect area to cross-sell and up-sell items to boost revenue. Use digital signage to highlight limited-time offers, share seasonal items, and package deals to motivate customers to make impulsive purchases at the point of purchase.
You can also use this opportunity to promote membership programs and perks to encourage shoppers to sign up, ensuring shoppers will have a higher possibility to visit your store.
Compared to paper shelf edge signage, digital shelf edge displays offer grocery stores and supermarkets a new way to display production information with additional room for promotions. Unlike regular TVs, you can place the digital shelf edge displays at eye level to draw customers' attention.
Signage placement is critical. With the proper signage placement, your promotional and marketing campaigns can reach your target audience effectively and achieve an impactful outcome. Consult with a professional solution provider to achieve the most optimal result for your grocery store digital signage.