Is there a difference between digital signage and interactive kiosks?
A digital signage kiosk is actually a hardware form of signage, rather than something that is distinct from digital signage. Outdoor digital signage kiosk examples might include totem pole styles that can hold larger displays. And popular indoor kiosk display options include A-frame or sandwich board displays that are easier to move around. Understanding how digital signage player kiosk helps make it easier to decide which options will work best.
A Durable Option Perfect for High-Traffic Areas
Kiosk signage is perfect for some of the most high-traffic areas of your store. The metal construction can easily withstand bumps from passing shopping carts. Even though the digital signage display itself is fragile, the more robust casing helps minimize the chances of damage being done.
The digital signage content that customers see will have a more significant impact when displayed in areas with more traffic. More exceptional durability helps here because these areas of stores have the most overall activity from customers and employees performing activities like stocking. When displays have greater strength, you can feel better assured about your customers seeing relevant messaging without thinking about minimizing damage being your primary concern.
The Perfect Appearance for Your Store
Because a digital kiosk display stands on its own, the display easily draws attention. And it draws attention to whatever information you are trying to get across to customers. Regardless of whether your message is about safety precautions in use during certain times or highlighting products currently on sale, you can have greater assurance of getting your customers' attention. These displays often have a more attractive look that encourages interaction.
An interactive touch screen kiosk can easily attract attention. During sidewalk sales or similar events, a kiosk done in a sandwich board or A-frame style gives an interactive experience. In these settings, there are usually a lot of activities at a time that likely has your customers' attention. Relevant messages that show why customers need to check out your display can help boost sales.
Purpose of Retail Appearance
An advantage that comes with a point of purchase displays is that these displays serve two essential purposes. On the one hand, they reduce the need for additional staff and interactions with customers that become an issue during the Covid-19 pandemic. These kiosks, depending on their placement, may also provide crucial just-in-time information if they are close enough to the product's location in the store.
Store management choosing to take advantage of digital signage and kiosk products can use them in different areas or departments of their store if space and funding permit. For example, a shopper looking for clothing will have different goals from a shopper buying home decor products. You'll find it easy to customize your messaging to appeal to these different shopper groups.
Checkout areas are also ideal locations for in store digital media. If your store offers memberships, for example, a kiosk is a perfect way to advertise this service and allow customers to sign up. These systems are also ideal for showing additional items for cross-selling or upselling, based on the customer's current purchases.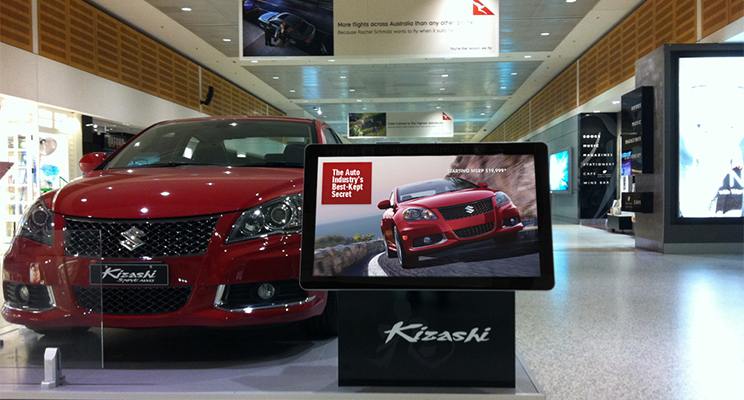 Better Interaction
An advantage commonly cited with cloud-based digital signage is the wealth of possibilities. Because these displays have been constructed with one-on-one interaction in mind, the information is easy to personalize for the individual customer.
A kiosk can provide more than just a retail advertisement. The interactive nature of one of these displays allows users to play games or pursue other activities with the interface.
Another advantage that kiosk-style displays offer is providing a touchpoint to answer questions that customers might have about the products. One thing that these displays can do is help provide more detailed information about one of the products or services. The screen can also display a list of frequently asked questions and their answers.
Flexibility in Usage of Digital Signage Kiosks
Digital signage is one of the most flexible marketing tools that retailers have available. One of the things that makes this form of in-store marketing flexible is how easily you can move the display between locations. A display that you can move elsewhere will end up being far more useful in the long run.
One thing that you will need to think about before using digital signage kiosks is whether the usage of this item will interfere with your customers' ability to shop. In some smaller spaces, displays might prove a navigational challenge for customers. However, all is not lost if you have a small retail space, you will need to do some more planning.
For example, if you only need messaging during high-traffic times, kiosk-style displays are easy to store in between uses. Consider using the kiosk on weekends or during certain times leading up to the weekend. If you have a greater need, you may want to consider adding or even switching to a wall display.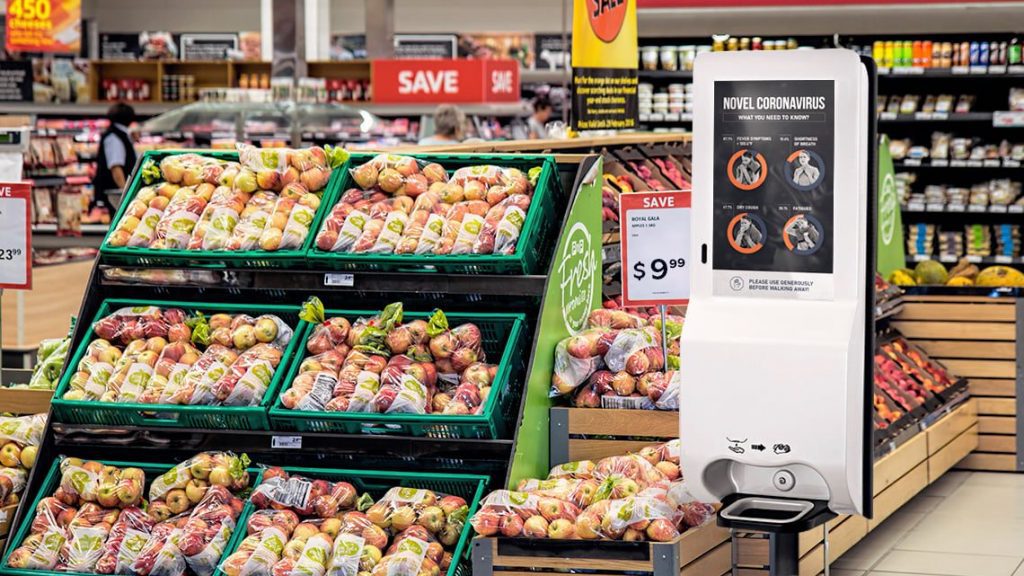 Using Digital Options for Hygenic Reasons
The COVID-19 pandemic disrupted a lot of the ways companies have done business. Two of the challenges that many companies face is how they can provide more service without more interactions and how they can provide additional information without print materials. Both of these concerns come in the light of an increased need for social distancing.
Customers often require assistance with questions that are easily addressed through marketing materials. Because some stores have had to cut back staff to conform to social distancing guidelines or employees being out sick, staff often struggle with being available to answer questions. Having a display that can address these concerns helps businesses serve more customers with reduced interaction.
Another crucial part of using a kiosk display is eliminating the need for print materials. Prints can be a way of spreading germs. Handling, brochures, and other print materials can also create messes if customers don't dispose of them properly. Displaying relevant information on a screen helps keep the retail space much tidier.
Digital Signage Kiosks: In Conclusion
There are enough digital kiosk display options available to ensure that you'll find something suiting your business needs. Things that will determine what you need include your retail setting, the environment where you intend to use the signage, and your goals.
Having your business succeed, and getting an excellent return on your investment is always important. You will need to make sure you choose the right option to maximize your gain.
Learn more about our products and what they can do for you, and get in touch with us for a free consultation. We want to partner with you to help you serve your customers by selecting a signage option that works well.
You can learn more about NexSigns' Digital Signage solution and connect with us on Facebook, LinkedIn, Twitter, and YouTube to get the latest info on digital signage!