Digital menu boards (DMB) have become a standard in displaying menus and promotions in the quick-service restaurant (QSR) industry. If you have already installed a digital menu board in your space, you might have figured out DMB is much more than buying a TV and loading a looping presentation. Thus, DMB project planning is a step that should not be overlooked.
Implementing proper planning is essential before committing to your investment. A failure to plan it out could lead to financial losses and poor customer impressions.
In this guide, we will look at the fundamentals of the DMB planning process. Because planning should always come before hardware and software setup.
Step 1: Form Strategic Objectives
When you decide on implementing digital menus, there is one fundamental question you need to ask yourself:
What is this project's goal?
The most common use cases for these boards are:
Displaying restaurant menus for the customers in line.
Showing customers the steps of the ordering process.
Using the boards to display limited time offers.
Presenting promotional content and customer engagement programs.
There are many other uses for these boards. You need to determine their purpose as it will affect everything, from purchasing TVs and software to positioning displays. Therefore, it would be wise to spend some time on making this decision and not rush it.
Step 2: Establish Ideal Viewing Locations
Once your strategic objectives are clear, the next step will be to establish your ideal viewing locations. This is where you want your customers to view the displays, and it's highly dependent on the ordering process of your restaurant.
The most important factor or question to ask is whether your client will have the necessary information available when they need it. If your restaurant has a made-to-order process, then you need to establish the steps that the customer will go through and where they will need the information.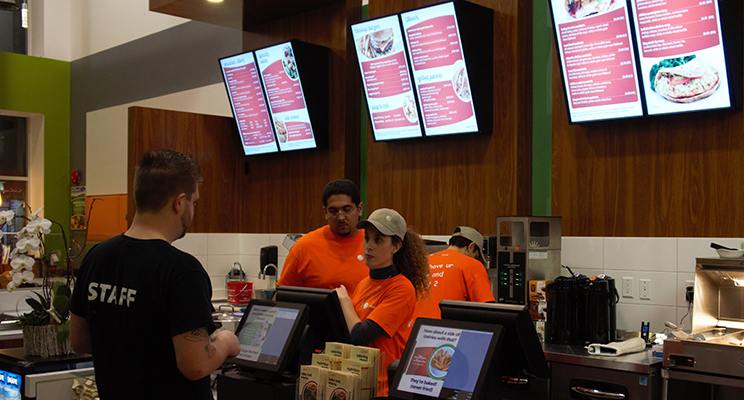 If your displays are for standard fast-casual restaurant setup, then having them mounted to be viewed from the cash register line will allow them to plan what they want in line. They can also use the digital menu board when they're at a counter to confirm they are ordering what they want.
Step 3: Determine Display Positioning
Once you have your viewing locations figured out, the next step is to determine where the displays will be positioned. Where you place your displays is sometimes a tricky situation as there are many factors that you must take into consideration.
The first and most critical factor is finding a place that will support the weight of the displays. Dropping the ball here could spell massive losses or possible injury if a display collapses on a customer.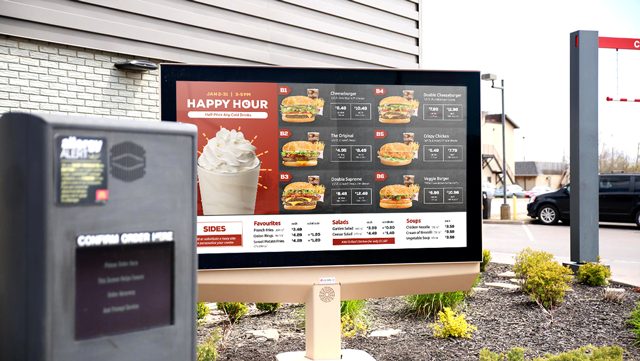 You also need to see if anything is blocking the display. Obstacles are sometimes not easily detected from a certain angle until the installation is complete. Also, check if the lighting will have a negative impact on visibility. A poor display because of glare is always a nuisance.
For more detail on how to best position your menu boards and signage, check out this in-depth guide on just that.
Step 4: Decide Number of Displays
Getting the number of displays right is a tricky affair sometimes as the influencing factors are a bit more complex. At the end of the day, you probably don't want your establishment to look like Time Square. You also don't want to have too few displays and have your customers search for the information that they need.
A combination of the specific needs determined by the strategic objectives, combined with the display positioning and available space, will have the biggest impact on your number of displays.
Then consider that you don't want your customers to strain their eyes when they read the displays because the information is so condensed. At the same time, you also don't want too many displays so that the information is spread too far apart.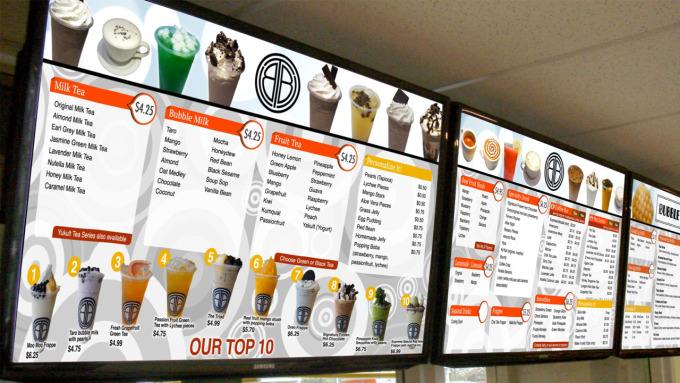 Step 5: Establish a Project Roadmap and Timeline
When you have made all your decisions and figured out where all the equipment will be installed, it's time to begin the product research. You'll need to figure out what features and hardware you will want and then start working on your restaurant menu designs.
Conclusion
Setting up your digital menu boards can be a daunting task and for many, it can become an expensive exercise if it's not well-planned. We hope that this 5-step guide would have given you some ideas on how to plan for your digital menu board.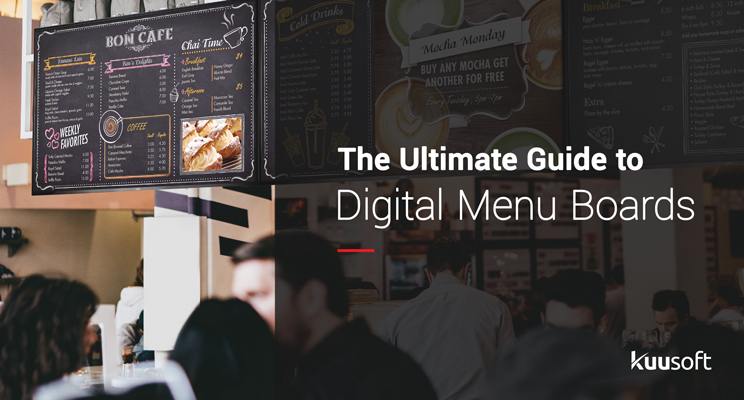 In addition, you can learn more about DMB project planning by reading our Ultimate Guide to Digital Menu Boards. Download for free, forever!
---
Yet, if you need some extra advice and consultations, our digital signage experts are here to help. They offer free advice on all the aspects covered in this guide. Feel free to get in touch if you feel you need to have a chat and fill in some of the blanks you might have.
You can learn more about NexSigns' Digital Signage solution and connect with us on Facebook, LinkedIn, Twitter, and YouTube to get the latest info on digital signage!