Why Is Digital Signage Important at Your Optometrist's?
Optometry offices face challenges that include issues unique to this type of practice, as well as problems commonly facing all medical offices. Concerns such as growing a practice and coping with staffing issues affect many optometrists. Other considerations include staying current on regulations and adopting new technologies.
Digital signage is one of the best investments an optometrist can make over a longer term. Digital screens are among some of the most flexible marketing tools currently available. When you use one of these display options, you might be very pleasantly surprised at the results.
5 Proven Ways to Use Digital Signage for Optometry Offices
1. Feature Real-Time Displays
The date, time, weather, and other types of real-time information are staples of many retail advertisement displays. Displaying this information can be a useful marketing tool for customers and patients as they wait for their appointments. Once anyone in the waiting area notices this information, they are likely to keep referring to it during their wait.
Displaying this information on in-store digital media is always sure to attract attention. These optometrists' digital signage solutions are the perfect outlet for showcasing your products after the other information has caught patients' attention. When someone views the information on the display, they will have time to make decisions about what they are seeing.
In many cases, customers and patients are accustomed enough to seeing this type of information that they will welcome it. When patients are trying to keep track of appointments and other events, digital displays can help keep their attention. The more viewers see the content during their waiting time, the more exposure they will have to the products promoted.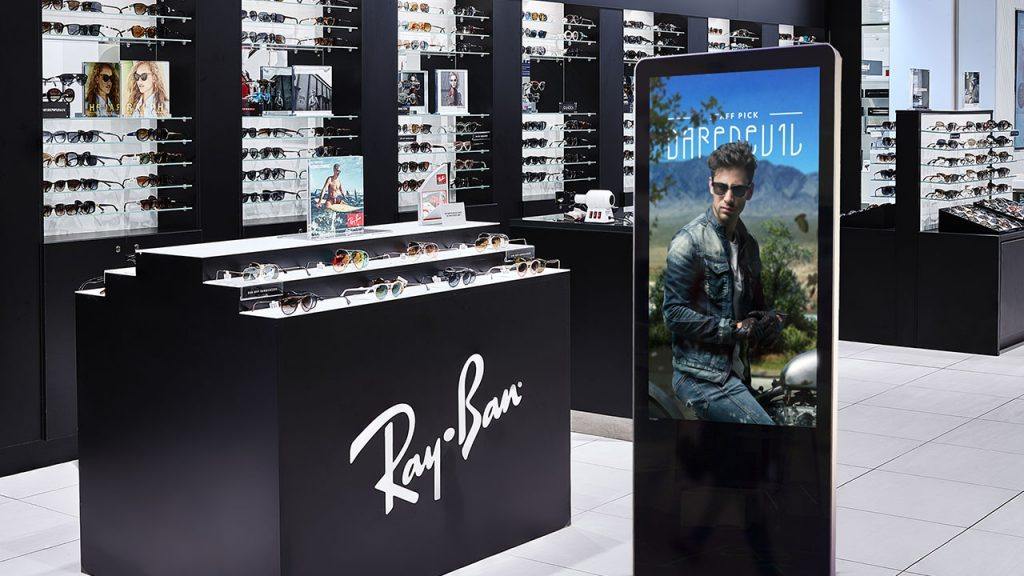 2. Optometrists' Digital Signage Showcase New Items for Patients
One of the things that retail signage software allows users to do is highlight new, available products and services. Because most eye doctors have an optical office, signage options help draw more attention to available brands, and services offered. Patients possibly considering buying their glasses elsewhere may even give your shop a second look. Advertising about your vision products is what makes the difference.
Drawing attention to new product arrivals is always beneficial for a business. Eye doctors' offices are no exception to this rule by any means. Styles for glasses change, just as clothing and accessory styles do. As expected, optical shops will want to stay ahead of the trends. You will be able to promote these products effectively when you have more brands to offer.
A sale is a perfect time to take advantage of new styles by purchasing an extra pair of glasses. Customers might even have an interest in buying extra pairs with features their current glasses don't have. For example, some might prefer a second pair with photochromic lenses or a set of prescription sunglasses. These types of features are examples of what digital signage for optometry can do in terms of advertising and encouraging additional purchases.
3. Creating a Sense of Urgency for Promotions
Advertising clearance sales on summer sunglasses is one example of ways to use digital signage for optometry to maximize product awareness. When any business, including an eye doctor's, is selling products, greater urgency encourages customers to act quickly. Having less time to act on a sale or promotion encourages customers to make a choice. In many cases, that choice will also involve buying additional items.
Retail signage software makes it easy for office staff to pre-program information about upcoming optical shop sales. By spending less time planning promotions, office staff will have more time to spend on patient needs when purchasing glasses. Encouraging everyone to take advantage of promotions as much as possible is always a winning strategy.
One of the ways to encourage customers to make a decision is by showing ads about the items on sale. As one example, advertising that shows actors in a commercial wearing the brands on sale might encourage customers to buy. The brands that your office carries probably have display material that you can use very easily.
4. Creating a New Revenue Source
Additional revenue sources are always beneficial for a business, including doctors' offices. One of the most helpful things about new revenue sources is how many opinions an optometry office has. Selling glasses, as well as offering eye exams, provides a wealth of opportunities for new revenue.
An optical office earns much of its revenue from eye exams. However, these offices also have relationships with vendors who sell items besides prescription or reading glasses, such as goggles and sunglasses. These vendors also offer accessories to go with these products, such as cleaning kits and cases.
Digital screens in the waiting or reception area are an ideal location to offer advertising space. Patients or customers waiting for eye exams are likely to pay attention to whatever appears on the screens. An ad for the right product, displayed at the right time, might result in a sale or another appointment.
5. Promoting Brand Values and Awareness
One of the most essential features of a retail advertisement is its ability to help promote the brand's values. In short, the more promotion of the brands that opticians take part in, the greater the awareness that patients and customers enjoy. In this specific context, the brand promoted is the doctor or group of doctors.
In-store digital media can highlight the doctor's educational background and other essential credentials. Prospective and current patients will gain and keep a greater degree of trust with this information. Patients often feel a sense of connection with a doctor who attended a school that is familiar to them.
The types of information that you might want to promote include any areas of specialty, such as diabetic eye disease. Displaying such information about conditions might help a patient decide whether they want to use your office regularly. Patients will always have the option of asking your staff about anything they are unsure of that they read about.
Digital Signage for Optometry Offices: Final Thoughts
Digital signage solutions are useful for optometrists in many ways, but five ways stand out in particular. These are: offering real-time displays, highlighting new items, creating promotion urgency, creating new revenue streams, and promoting brand awareness. Even though every practice might not use all of these techniques, each of them are worthy of consideration.
Even starting out with one or two of these strategies makes a difference. Consequently, you're likely to see a change in interest, for the better, shortly after bringing these changes about. Consider how you might be able to make these marketing techniques work for your practice.
To learn more about the digital signage features and solutions available for your optometry practice, check out our website at NexSigns.
Learn more about digital signage for optical retail and connect with us on Facebook, LinkedIn, Twitter, and YouTube to get the latest info on marketing with digital signage!