Top Ideas for College Campus Digital Signage Displays
Digital signage is a popular means of campus communication. These digital products can help transmit information using technology that was once associated primarily with retail. There are very innovative ways that college campuses can put this technology to use for their community's benefit.
You can set up new content easily and quickly, thanks to digital signs. The days of static signs that become out of date long before the semester's end and unspoken noticeboards are over. One of the advantages of digital signs is that they can be updated from anywhere.
With digital signs, your organization can update content from anywhere, at any time, with multiple possibilities for what you show and how to display it. We offer a guide on how to use this signage if you require technical help. If you feel comfortable with the technical part, let's explore how you can use the content to your advantage.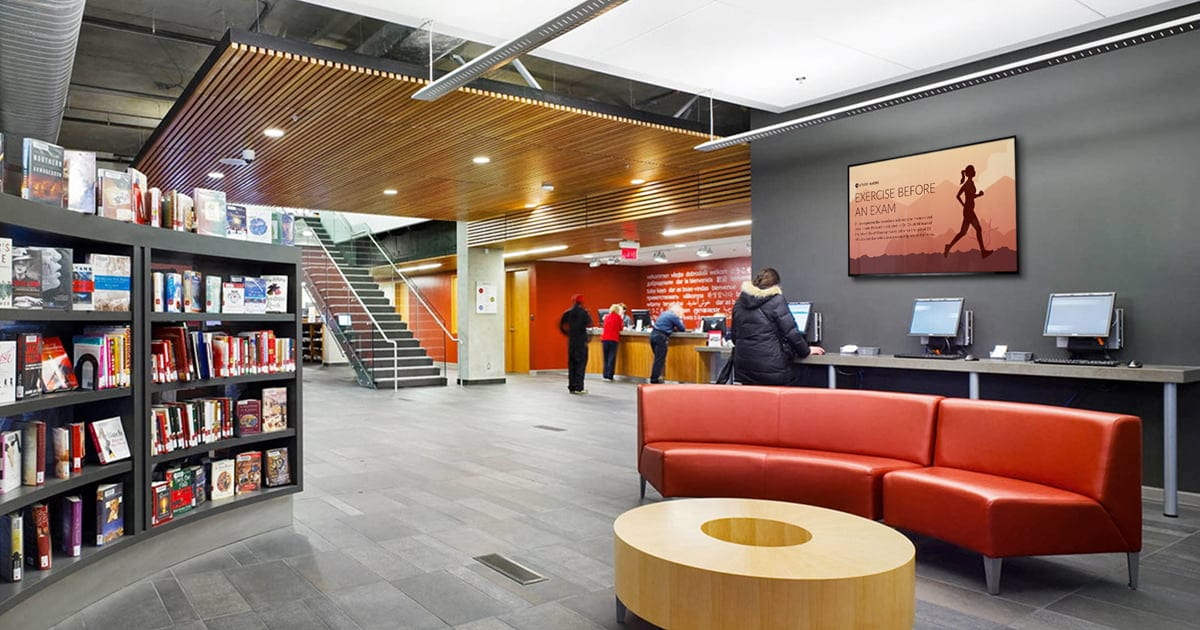 1. Social Media Feeds for Departments
College students today are very comfortably familiar with social media. Digital signs easily connect with social media platforms to provide for more efficient updates. Professors and department heads can easily post lesson plans, last-minute updates, and new content for students to see right away.
Filtering features and moderation help keep all of the content suitable for all viewers. One of the most significant advantages of using social media feeds is having your signage continually fed by content that is up-to-date, with your staff being fully in control the whole time. As helpful as social media is, it is useful when school staff can exercise some control over the campus communication content that displays.
2. Alerts for Campus Emergencies
Emergency alerts are some of the most critical usages for digital signs. When used for campus communications, some of the purposes these signs can serve include escape routes and meeting points, contact information, and the locations of resource stations. Displaying this information can make all the difference in how orderly evacuation is during an emergency.
FEMA recommends that digital signs feature Common Alerting Protocol, or CAP, which allows everyone on campus to get specialized alerts. The administrative team can update the situation as it evolves. Some of the emergency alert types easy to integrate with these systems include texts, emails, social media, sirens and alarms, and strobe lights. These digital solutions are easy to adapt to the needs of hearing and visually-impaired students and staff.
3. Updated News for Campus Communications
Staying updated on news and events outside the campus setting isn't always an easy task for students. When you use digital signage, you can take advantage of news feeds that update automatically so students can see what's going on when entering class or finishing up a study period. You will be able to get the students' attention at just the right time.
Apps that cover news and world events include BBC, CNN, ESPN, and local live news sites. Some of the other apps that students might find useful include apps that display currency rates and stock price feeds. All of these features can help students stay updated on everything going on, especially information relevant to their studies.
4. Event Listings
When you're trying to increase campus communication to keep the campus community informed about events, digital signs are one of the most effective methods you can use. The signage is also essential for updates on crucial deadlines like scholarship and internship applications, office hours, deadlines for adding or dropping classes, and schedules for midterms and finals. Making these dates more visible will help students comply with these dates more easily.
Announcements related to events can come from any campus source. For example, students can be encouraged to post their events using the signage system. Athletic departments can take advantage of an extra channel to keep everyone updated on game schedules, news, and the conference standings. The more useful information the signage contains, the more attention it is likely to receive.
In the case of open volunteer opportunities, organizations can use digital screens to make public service announcements or promote opportunities for volunteering. You might also use signage to boost sales at the bookstore or events going on at the campus library. These types of announcements can serve to draw attention to the various resources students might not be taking full advantage of.
In the case of last-minute changes related to an event or venue change, digital signs are easy to update. Being able to update these systems quickly and easily helps keep everybody on campus updated. When everyone has accurate information about what is going on, there is likely to be greater participation in events on campus.
5. Dashboards and Menu Boards
Creating your own content in addition to using content from the news or social media feeds is a process that is relatively easy. NexSigns has an online portal that provides templates and tools for creating your own dashboard. News and weather make up some of the most popular dashboard content, along with gauges, tables, and charts. The possibilities are virtually endless, from fraternity and sorority memberships to house tables tracking games.
When digital signs are used as menu boards, they are capable of far more than displaying meal options. These menu boards are be displayed in locations other than the cafeteria to let students and faculty know what is available. Nutritional information and seasonal promotions are easy to display, along with recipes to spark interest in a school's culinary program.
6. Room Bookings and Rental for Empty Spaces
Room bookings are a perfect campus communication tool you can use with digital signs. Space in a library or gym can be at a premium on some campuses, so it is a good idea to be able to see how many sessions have been booked. These signs are easy to display outside the facility in question so that students can see how many are there, at a glance. Using the signage this way serves two purposes by eliminating confusion about what is in use and making sure all space is of efficient utility.
Some spaces on campus, such as gyms, are mostly unused on weekends and during breaks. With digital signs, staff can let students and the general public know about available spaces. Renting the space out is more straightforward when more people are aware of its availability. Filling the space allows it to earn its keep. Administrators may even have additional funds for more digital signs from taking advantage of this option.
Better Ideas for Better Digital Content
Digital signage should always come with a strong content strategy, regardless of how it is used on campus. Carefully thinking out how you will structure the information is an integral part of this strategy. Remember that the quality of the display makes all the difference in how well you get your message across.
The two most important things to think about are whether the content is exciting and how it is most likely to catch students' attention. When messaging is eye-catching and engaging from the start, it is more likely to fulfill its purpose.
College Campus Communication: In Conclusion
NexSigns Digital Signage Solution is one of the most adaptable solutions for academic settings. As the demand grows, so will the number of features that your institution can maximize to the fullest.
You can learn more about NexSigns' Digital Signage solution and connect with us on Facebook, LinkedIn, Twitter, and YouTube to get the latest info on digital signage!