Are you tired of relying on static, boring menus to showcase your restaurant's offerings? Say hello to the dynamic digital signage for restaurants! Digital signage continues to revolutionize the way restaurants engage with their patrons. Not only does restaurant signage increase sales and streamline operations, but they also add a touch of modern flair to your establishment.
Let's dive in and discover how you can make the most of digital signage!
As a restaurant owner, you know your menu is your business's heart. But have you considered how digital menu boards could take your establishment to the next level? Replacing traditional static menu boards with dynamic digital displays allows you to easily update prices, add new items, and showcase specials in real-time.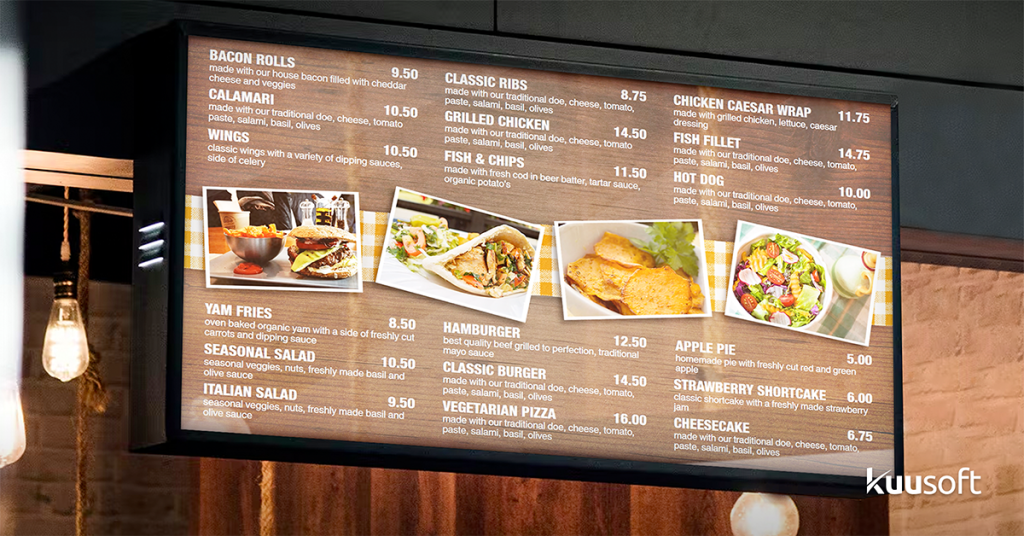 Beyond providing basic information, digital menu boards offer your customers an engaging and visually appealing experience. With the ability to showcase food images and videos vividly, you can entice your customers to order more and increase your sales.  
In addition, every region has its regulations when it comes to displaying nutritional information. With a digital menu board, you can dynamically display nutritional information whenever required to help your customers find the perfect menu item to suit their needs.
By switching to digital menu boards, you can save money on printing costs and stand out from the competition and keep your customers coming back for more.
With digital restaurant displays, you can provide real-time updates on order status, giving your customers an easy and convenient way to track their order from when it's placed to when it's ready for pickup.
By using order status displays to keep your customers informed, you can improve their overall satisfaction and keep them returning for more. This enhances their experience and helps you manage your customers and orders more efficiently. Digital signage for restaurants can also make the time to get an order out feel faster for customers because they visually indicate where their order is in the line.
3. Promote at the Perfect Timing
Are you still relying on traditional marketing materials like flyers and posters to promote your restaurant's deals and events? The traditional printing strategy is not only time-consuming, but it also takes away opportunities. Comparing to traditional printing, digital signage for restaurants is a better and effective way to help you promote at the perfect timing without hassles.
You can easily make updates with restaurant billboards and digital displays with minimal delay. In addition, you can schedule your promotions, seasonal campaigns, discounts, happy hour deals, and more ahead of time. When the time comes, your screens will update automatically with the scheduled content.
Interactive displays are the ultimate tool for keeping your customers entertained and engaged while adding excitement to their dining experience. Interactive displays come in many forms, such as self-ordering kiosks, tablets, and signage.
Restaurant owners can take the whole experience to the next level by doing the following:
Display Menus &

Limited-time Offers

: let your customers view your menus while bringing their attention to any specials, popular dishes, and more to upsell.

 

Self-Ordering

: make the ordering process faster by allowing your customers to order via ordering kiosks or handing out ordering tablets for each table. 

 

Share Recent Awards

:

share recent awards and achievements with your customers to bring up their excitement to try your service and food.

 
Showcase staff

: present your staff in a personable way, with pictures of them working at the restaurant and including some fun things about them. This helps create a personal connection between your customers and the staff serving them and making their food. 

 

Games

: with fun interactive games targeted towards different age groups, your customers can find something to keep them occupied and happy while waiting for their food. These games could come with potential prizes to increase participation rates.

 
By incorporating feedback surveys on digital signage for restaurants, you can collect data and gain valuable insights into your customers' experiences on topics like:
Customer service

 

Food quality, taste, presentation

 

New menu items

 
Cleanliness of restaurant and bathrooms

 

Wait times

 

Design and ambiance (music and lighting) of the restaurant
This data can be used to improve menu items, adjust staffing schedules, and create a better customer experience overall. By using interactive screens to collect customer feedback, you're giving your customers an easy and convenient way to share their opinions while showing them that their feedback is valued.
6. Branding and Personality
With customizable and visually stunning displays, you can create a cohesive and memorable customer experience representing your brand. From the moment a customer enters your restaurant, they are greeted by your restaurant signage, which can showcase anything from your brand logo to specific menu items, special promotions, or the history of your restaurant. This provides a valuable opportunity to make a lasting impression.
For example, a restaurant that prides itself on using locally sourced ingredients can use digital displays to show images of the local farmers and producers they work with or highlight the current season's harvest. Similarly, a restaurant with a more upscale atmosphere can use digital signage to display sleek and sophisticated images that complement its aesthetic. The possibilities are endless! 
7. LiveTV & Entertainment
In addition to showing the menus and specials, restaurants can segment their digital displays to showcase live sports, news, or entertainment content to create a lively and dynamic atmosphere for customers. By doing this, you can not only make sure the customers entertain your customers, but you can ensure that you have their attention to your menu specials during commercials to upsell and gain extra revenue. 
Restaurant displays can also showcase social media feeds or user-generated content, further engaging customers and creating an interactive or personalized experience. By using digital signage to entertain customers, restaurant owners can create a memorable experience beyond the traditional dining experience.
Entertainment can also help increase customers' time in the restaurant, leading to increased revenue and repeat business. 
8. Third-Party Vendors and To-Go Boards
With the rise of services like Doordash, Postmates, and Grubhub, a larger portion of your sales may be coming from third-party platforms. To streamline the process of receiving orders through one or more third-party delivery services, it's important to ensure that delivery drivers can easily navigate the system. Rather than burdening your front-of-house staff with this task, digital signage can effectively communicate the steps for delivery drivers to follow upon arrival for order pickup. 
You can also add restaurant signage for any to-go or pickup orders, so customers who arrive at your restaurant to pick up their order can see if it is ready and find the relevant order number from your pickup station or front counter.  
Digital Signage for Restaurants - an Upgrade
Digital signage for restaurants has become a popular tool for restaurant owners and managers to enhance customers' experiences and satisfaction levels. From interactive displays to menu boards, order status displays, and entertainment content; restaurant digital signage offers endless possibilities for restaurants to stand out from the competition and leave a lasting impression on their patrons.