Building Directory System
Building Directory System
You get one chance to make a good first impression, so make it great. Use our Building Directory System on digital signage to provide directory assistance and create an immersive lobby experience for your visitors, right from the start.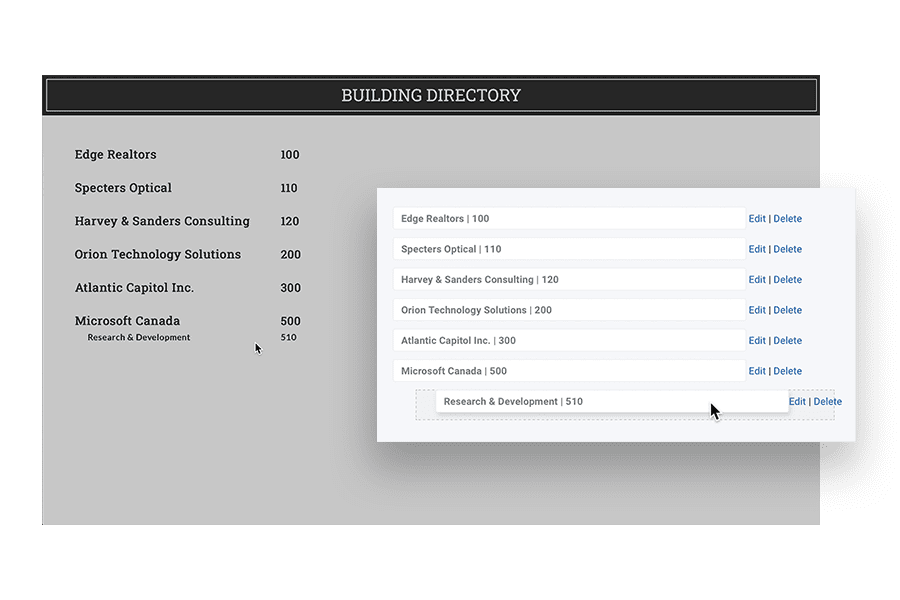 An intelligent directory system that optimizes on its own
Turning your screens into building directory signage. With Building Directory System, you have the ultimate freedom to update digital directory and wayfinding information anytime without worrying about formatting. Our advanced algorithm will intelligently position your data in the best way with minimal maintenance efforts from you.
Increased autonomy, decreased complexity
With our custom-made designs, you can update content without worrying about animation or formats, making timely changes through OnePass from anywhere at a much lower cost. 
No more engraved golden plates waiting to be obsolete; Building Directory System saves you time and resources, lowers your operational cost, and gives you the autonomy to update in any way.
Ready for a Building Directory Signage Demo?
Schedule a callback with our digital signage expert to learn more about NexSigns Digital Signage!
Let us know the best time to give you a call