You have to agree with the fact that foodies are always on the lookout for a great restaurant. Restaurants strive to meet this demand by offering the best dishes made with amazing ingredients. However, no matter how tasty the food menu is, without prudent marketing techniques, sales may be difficult to improve. In today's blog, we'll be covering how you can try out the two primary marketing methods used by restaurants that have led to proven success. One of the main marketing strategies is using digital menu boards. 
Cross-selling
This particular technique focuses on selling additional products to a customer that are complementary to the primary product they've already expressed desire in purchasing. In the case of a restaurant, for example, a customer may buy a meal or even a drink rather than a single item. The most famous, now infamous though, was McDonald's Super Size option.
Upselling
This technique focuses on selling an upgraded item, which increases the quality and price for little cost. Chipotle has seen great success in the fast-casual market by upselling guacamole for their famous burritos.
How do restaurants use cross-selling and upselling?
Restaurants have been using upselling and cross-selling techniques with printed signage for decades. And yet, today, many have made the switch to digital signage since it offers a more engaging display. Utilizing a mixture of these strategies attract customers and encourage them to spend more on the food and various add-ons. Quick-service restaurants are the primary users of upselling and cross-selling to maximize their revenue. A successful combination of quality, convenience, and speed are the three requirements to develop a lucrative QSR that customers love to visit.
If you own such a restaurant and are looking to meet the demands of your customers, then you need to implement digital methods. With the two selling techniques, your digital menu boards can win the hearts of your customers.
Digital Menu Boards
This tool is the leading technology utilized in quick-service and fast-casual restaurants. Digital menu boards comprise HD screens that list all the food items. Moreover, they offer unique features that traditional printed signage can never have. As detailed in previous blogs, the human mind is instinctively attracted to movement. Unless you hire someone to wave your printed menu around, making it pretty much illegible, there's no way you can do this with printed signage. With digital signage, however, you can utilize stunning animations to draw attention not only to your menu but also to your most profitable items.
First-class digital signage solutions, like our NexSigns, also come with the power to make edits to your digital menu instantly. Even parts of your signage that involve animations can be edited, whether they are text or images. Hence, it gives you the ability to try out new menu items or designs quickly. Without the need to call a designer or wait for your menu to be printed, you can have a stylish menu board.
The use of digital signage and applications to modernize selling techniques has dramatically increased the profit margins in the QSR industry. Restaurant owners who skillfully actualize such digital inventions in their food selling techniques can significantly profit within the contemporary world.
Download Our Free Ultimate Guide to Digital Menu Boards to Learn More!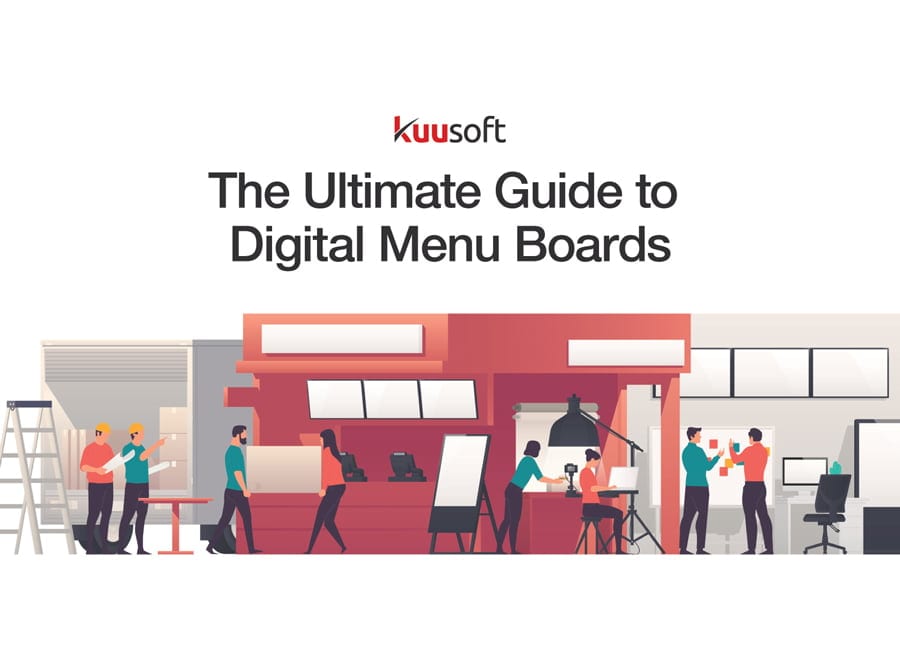 ---