Over the past few decades, the healthcare industry has done wonders. They have come up with miraculous recoveries and increased life expectancy. However, all good things come at a cost. The same is the case here. Although these changes have improved the measure and standard of living, the prices are incredibly high. These high costs disrupt the financial stability of the healthcare industry. In turn, it ultimately leads to a downfall in the services provided to the patients. It is unrealistic to think that any industry or company can run without any hiccups along the way. The purpose of healthcare operations management's existence is to manage any facility or industry's general and daily functions.
Role of Healthcare & Hospital Operations Management
Similarly, like all other fields and industries, the healthcare industry also has operation management in place. Through this managerial team, hospitals can streamline their costs, manage their health care operations, and provide maximum comfort and services to the patients. It is also essential for operation management to obtain the funding necessary to continue with the healthcare services.
Improvement in Quality of Care for Patients
As stated above, one primary responsibility of the healthcare operation management team is to ensure that the quality of care provided to the patients is the best of the best. There are multiple ways in which they can enhance patients' experience, including the following:
1. Research
First off, jumping into any field headfirst can be tricky and might lead to wastage of resources. To aid the patients and improve their services, healthcare operations management must carry out a series of research designed to measure patient's comfort levels and satisfaction levels. They form the means to identify the components are that are leading to a negative customer experience.
2. Follow-Ups
A crucial factor impacting customer experience in the healthcare industry is the high number of cancellations. In the UK, there were 84,477 cancellations in 2015-16. There must have been many times when you would have ended up canceling an appointment or just not going at the last moment. The high rise in cancellation is often because patients forget about their appointments. An easy and straightforward way to solve this is acquiring the patients' contact details when booking an appointment. Later on, the healthcare management can follow up with patients over a text or an email reminding them of their booked session. 
3. Timely Services
The healthcare service delivery is hampered significantly by a lack of delivery of timely service delivery. When patients have to wait for every step in a hospital, they experience impatience and frustration. Even the caregivers may face a significant delay in supplies and other necessities. Timely services can eventually lead to improved quality of care for patients.
Improvement of Facilities and Experience for Employees
Along with improving the quality of care for the patients, it is also essential to work on employee satisfaction and the facility's functionality. For this purpose, instead of entirely uprooting the employees or opting for any other costly solutions, healthcare operation management teams can incorporate various digital and electrical features in their systems. These will prove to be effective, time-saving, and also help in re-energizing the crowd.
1. Automation
Digital features in facilities also help in saving space and effort on behalf of the employees. Automating tedious and time-consuming tasks can enable employees to focus on other chores. One prime source of incorporating digital tools in facilitating is digital signage. These signages automate various tasks and increase efficiency.
2. Controlling Costs
Cost-effective solutions are essential for facilities to run at a smooth pace without breaking the bank. The aim to reduce per-capita healthcare costs comes at the risk of plunging into an incompetent facility's depths. The management will be opting to look for cost-cutting consultants and miss out on innovations and technologies needed for patient care services. By allocating a set budget, these facilities can assess their financial standing and spend accordingly.
3. Patient-Centric System
For the facility to reach its highest functionality levels, customer insight helps shape the improvement process. Engaging with the customer and getting their feedback about their experience through social media or websites can be fruitful.
For healthcare facilities to attain a high-level environment of care (EOC), these routine insights can provide vigilance in patient satisfaction after getting in touch with a healthcare provider. Eventually, these will be insightful and inform the healthcare operations management team about the employees' standings and productivity levels. Deploy one-on-one training sessions to boost employee's productivity and overall functionality of a facility.  The patient-centric approach should be appointed by catering to their patient's waiting experience and reducing wait time.
4 Uses of Digital Signage in Healthcare Operations Management
As the world shifts to a digitalized era, healthcare facilities can also incorporate various digital and scalable solutions for maximum productivity while controlling costs. One such digital feature that has shown to do wonders for dealing with patients and healthcare providers is digital signage. Digital signages have a minimalistic design and are easy to manage with one click remotely.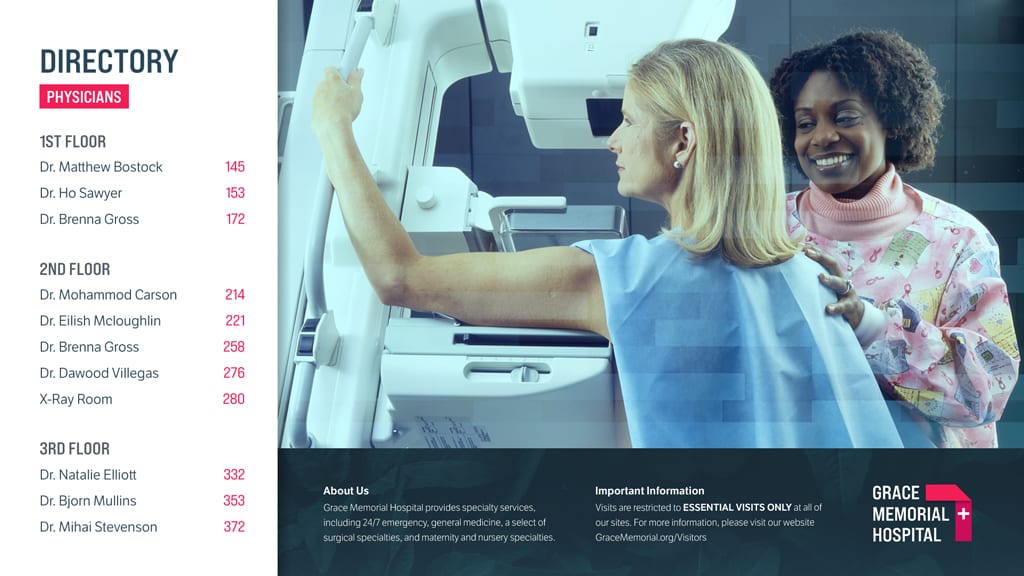 1. Directory Systems
With digital signages, various tasks that might seem tedious and repetitive for healthcare providers or administration can be automated. For instance, the NexSigns Building Directory System is an intelligent and efficient solution for automatically updating information on the directory without worrying about the algorithms or the formatting of the content uploaded. These can take operations costs down with resources and saving benefits. All this while you have complete control over your processes.
2. Waiting Room Dilemma
Patient cancellation is a huge problem faced by healthcare facilities. It leads to wastage of resources and a ruined customer experience. The majority of times when patients cancel their appointments, the sole reason is high capacity waiting rooms and an excessive waiting time.
To tailor experience in the waiting room, Optical Content Library (OCL) can revitalize customer experience. You can provide them with informative and educational content designed by professionals. This professional content may include commercials, quizzes, facts, and even advice.
3. Scheduling Content
Website and portal management can turn into hard labor for employees since it requires continuous updating and a strong vigilance on planning. With the help of Scheduled Publishing, you can now easily plan and stay stress-free. When content is prepared, you can stay updated in your realm and have the upper hand over your competitors. You can get rid of the dilemma of updating the content by bringing in digital signages.
You can organize your content and then schedule the publishing time of it. It is the best way to plan your content months.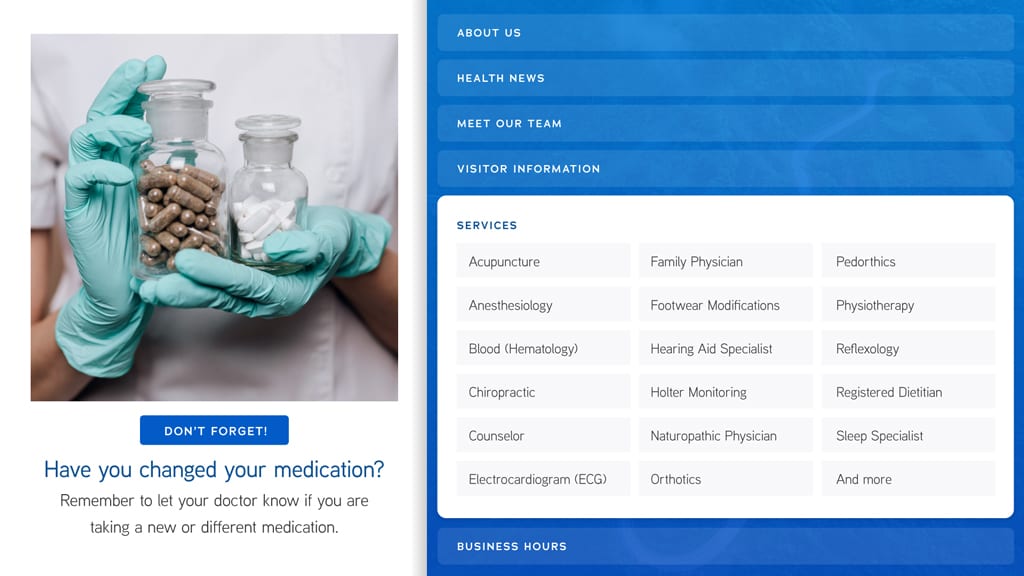 4. Autonomy for Schedules
Lastly, among many other features, another useful one is the Date Range Filter. This feature applies to all those situations when your product or service has a limited date after which it might not be applicable or available. In the healthcare facility, it can be useful to schedule content on signages and timely removal.
Ultimate relevancy is provided to the patients while maximum efficiency is obtained through the healthcare operations management team as scheduling and removal are automated with no extra effort required. The same tie used to keep tabs on content can now be allocated to other activities.
You can learn more about NexSigns' Digital Signage solution and connect with us on Facebook, LinkedIn, Twitter, and YouTube to get the latest info on digital signage!