What is digital signage?
According to Wikipedia, Digital signage is a sub-segment of electronic signage for public display. Companies use them to address informational and advertising requirements for their campaigns. In addition, these digital screen displays use technologies such as LCD, LED, projection, and e-paper as a method of communication. It is common for digital signage to dynamically display content like digital images, videos, HTML web pages, social feeds, weather data, static ads, menu items, text, or other relevant information.
And, it is everywhere.
Digital Signage Usage
Walk into a mall closest to home, you will find electronic signages of all sizes. Some of which are standing right at storefronts, within shops, in between aisles, at your self check out stations, or across from food courts.
Think about the times when you decide to travel? Let's say you arrive at a nice hotel, visit some museums, theme parks, art galleries. Do you recall seeing digital maps and introductory messages on electronic screens nearby?
In fact, digital signage is largely adopted by literally, every single industry. Why? Because all businesses have one thing in common. The need to get in front of consumers to maximize their market share before the competitors do.
In order for that to happen, we need a channel to broadcast these marketing messages. And digital signage is a proven methodology that has worked for many years all across the globe.
"But for how long?" You may ask.
Last weekend, I was watching some old DVD tapes my parents took of the family while we lived in Hong Kong twenty years ago. They were taking turns to give out piggyback rides while we walked around the city. You can see different kinds of bright static, electronic signs displaying all across the streets.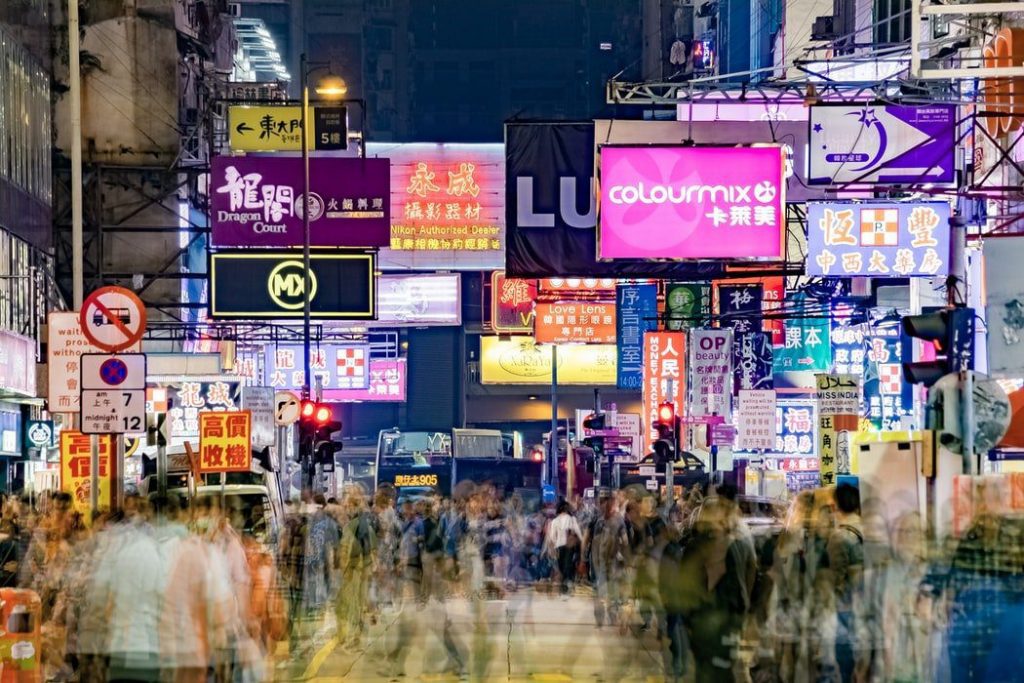 Wherever you go, indoor or outdoor, you will always see bright signs hanging all around the city. And that was exactly what I saw, if not bigger and brighter, twenty years later at Time Squares in New York.
We saw all kinds and shapes of signs everywhere!
As we witness technological advancement happens by the hour, we see more complexity incorporated within individual screens. They have greater capabilities in showing higher definition visuals and capturing eyeballs for everyone passing by.
Digital Out of Home
The point is, businesses have long been surviving in the era of DOOH (Digital Out of Home).
Chances are, anyone who wants to enhance customer experience, acquire new market shares, or deliver timely marketing messages, already own a set of digital displays in the hottest, most crowded spots in town.
The same goes for internal promotional messages for brand development. In recent decades, more corporate offices are starting to incorporate digital displays in their physical space. Many of which uses them to create an inclusive environment for employees.
Companies use these signs in dedicated areas to educate viewers/customers like you and me about upcoming promotions.
The motion of display content also creates an incentive for us to pay attention, making us more aware of the things a brand has to say.
What do we need to make digital signage work?
There is a couple of fundamental elements we need to make a digital signage work.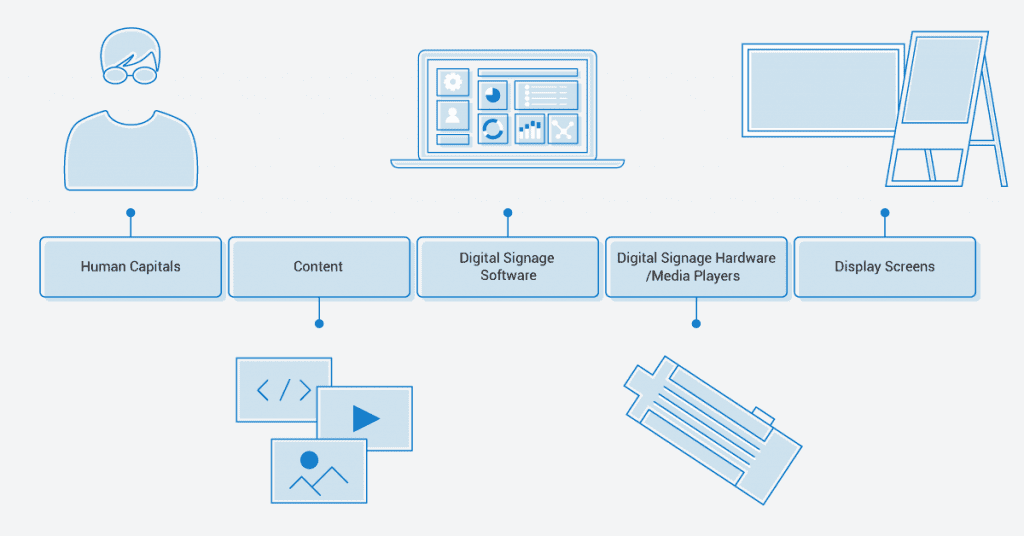 Human capitals
This can be you, or a project management team who is comfortable working with technologies. This group will be owning up to the deployment, implementation, and analysis of digital signage projects.
Display Content
Even with the most advanced, technological displays on hand, you will still need to create relevant content to capture your audience's attention. Optimize your content and put in a call to action to engage with your customers. 
Digital Signage Software
After creating the most engaging content you can ever think of, you will need a tool to manage and deploy these visuals to your screens. This is usually done through the web or cloud-based applications that are accessible online from your computer.
Digital Signage Hardware
This device is usually called a media player. It downloads the media and instructions from the software through a server, stores the information, and plays it on screens at instructed times.
Display Screen(s)
This includes any consumer or commercial grade displays for your indoor or outdoor signage. (i.e. TV, Menu boards, kiosks, or iPad, etc.)
How does digital signage work?
For content to ultimately show on screens, it usually needs a combined effort between a piece of software and some sort of computer hardware devices.
What is digital signage hardware?
The hardware devices are generally referred to as digital signage media players. If we eliminate the software component, we will have the hardware acting as a minicomputer running operating systems like Android, Windows, or Linux, etc.
On the other hand, these devices can also be customized and installed with pre-developed proprietary signage software. This allows for devices to communicate with the remote servers to download content and other instructions. The content will then be delivered and played as per schedule or timing specified in the instructions onto the display screes we see in public.
Most digital signage player devices are compatible with their signage software. If you do want to run open-source digital signage software on different player devices, you will need to run tests ahead of time before deployment to ensure the right compatibility.
But if you decide to go with a proprietary software solution, that should be one less of a worry. That's because they are usually pre-handled and optimized for max performance.
What is digital signage software?
Like how it is illustrated above, a digital signage software usually comes in the form of a platform for users to upload media assets and craft proper instructions for their display screens.
Depending on your provider, these platforms can either be web or cloud-based. The goal is to create a medium that is simple to use remotely, to centralize changes made to any of your digital screens.
The term "digital signage software" is very general.
There are different software types you can find within the existing market, such as content management software (CMS), content creation software, playlist-driven software, rule-based software, media player software, device management software, etc.
Clearly defining your goals is critical before you choose to go with any providers because different software is created to solve different issues.
If you have an internal team in charge of creating content for the company, then maybe it is viable to consider a solution that can focus on helping you deliver and distribute content efficiently.
Oppositely, if you need to lack the infrastructure to create materials, you may want to consider going with a provider that focuses on providing template solutions.
Why do we use digital signage?
According to Grand View Research, the global digital signage market size is predicted to worth 31.71 billion in USD by 2025. The growth rate for the industry is constantly on the rise. Here's why:
Enhancing the opportunity to advertise within restricted spaces
Engaging and converting prospects through displaying multiple messages
Familiarizing consumers with brand tones by delivering timely messages
Delivering strong ROI by cutting the cost of printed material and shipment logistics
Improving the outlook of physical spaces to align with company branding
Reducing travel costs by connecting virtually with remote employees in real-time
Final Thoughts?
Deploying a project can be complex and complicated. Yet, there are things you can do to be successful. Similar to the companies who already invested in the technology, you will need to ask yourself why you are looking for a solution.
Carefully planning the goals and objectives ahead of time will help you craft a better process. This often helps to determine the return and effectiveness post-deployment.
It is really simple. Don't rush through your planning!
Ultimately, you are here to find a solution that will fit your immediate needs and contribute to your long-term goals.
HERE ARE SOME OTHER BLOGS ABOUT DIGITAL SIGNAGE:
You can connect with us on Facebook, LinkedIn, Twitter, and YouTube to get the latest info on digital signage!