People often ask about a difference between digital signage and digital signage kiosks in QSR. Truth is, these terms usually refer to the same thing. A kiosk display is a type of digital signage display and is best described as a variation. Contrary to popular belief, a digital kiosk is not a distinct type of signage. One thing that stands out about a digital kiosk display is its touchscreen or other features in high demand.
Regardless of whether you choose outdoor digital signage on a totem pole or QSR digital signage in the form of an indoor A-frame, you need to make sure your customers have all the information they need. Choosing the right type of signage will help ensure that your customers know what you're offering at any time. Greater awareness leads to more satisfied customers who are more likely to buy your products over time.
A Flexible Option for All Circumstances
Even though many quick-service restaurants are well-known, digital signage player displays can fill an essential role by enticing passersby walking or driving by the location. New customers, unaware of your location, might decide to drop in based on what they see on your restaurant display outside. Current customers might choose to visit your location on impulse because of your digital signage advertising if they see something they didn't know you offered.
Any touch screen kiosk or other display that will appear outdoors needs to be able to withstand weather extremes well. Selecting a display based on tough construction will help ensure that the display meets your restaurant's needs. The more effective the display in rainy or snowy weather, the greater your customer volume will grow because customers will be able to see what's new much more quickly.
An Option That Fits in Any QSR Setting
One of the advantages of using a digital menu is that these products can easily blend into the building's design. If your QSR location has a unique theme, for example, you're likely to want to make sure your menu matches the building's features. After all, your customers will be spending time looking at the menu. And you want them to be able to focus on what they will be buying.
Regardless of the style or location of your display, the digital signage content can play a role in how much attention your restaurant attracts. Regular customers will appreciate content that lets them know about something new that you have to offer. Passerby, who have yet to visit your location, might decide to stop in based on something they see on one of your displays, especially if they have heard about your restaurant and have already gotten curious.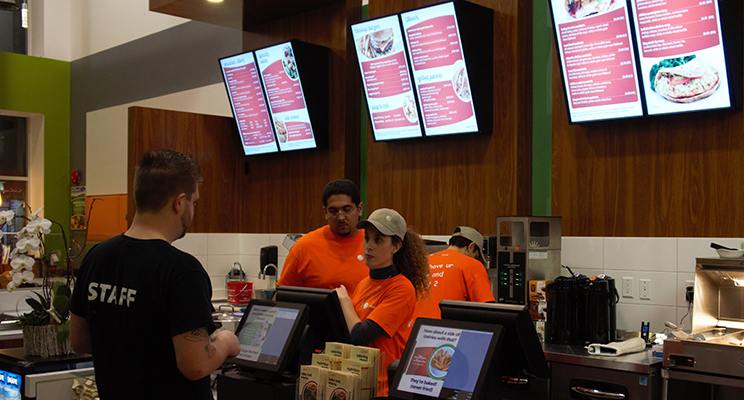 Ways to Use These Displays Effectively
An advantage of a digital kiosk touch screen is that you can provide self-service ordering, including ordering from a table. Even though all customers may not be open to using such features, many will be glad to use them for their convenience. Your employees will be able to focus on tasks beyond handling orders, making everything run more efficiently.
The digital signage hardware available is easy to use in different places, and you can add content beyond ordering capabilities. Some of the different ways displays might be used include displaying pictures of the menu items with possible upsell items. Moreover, digital signage kiosks can display a commercial, showing which order numbers are ready for pickup. The use of apps and other content on these displays can present a perfect opportunity to include branding information.
A Helpful Tool for Employees and Vendors
Many business owners may not realize how valuable cloud-based digital signage can be for employee areas, as well as the public areas of their QSR. However, employees and outside vendors such as suppliers and promotional staff can benefit from the information these displays can provide. The display screen can be an ideal place to display relevant information that everyone who works at your location needs.
Vendors who are new to your location can benefit from having information about management and the restaurant layout on display. New employees and vendors will find the information easy to refer to when they have questions without having to wait for someone to answer. Digital signage kiosks allow everyone to get the information they need more easily. And this makes a difference in your QSR's efficiency, allowing new workers to adjust more easily.
Keeping Everything More Sanitary
When the COVID-19 pandemic became a problem, the restaurant industry had to make changes. They need to adjust to a lot of changes from a reduced capacity to shifting towards more reliance on takeout. Another issue in many QSR settings is access to paper menus and similar marketing materials. A concern that many food service managers have had is whether physical copies of these materials could cause disease spread. More specifically, if customers leave them on tables with used utensils, napkins, and similar items.
A digital signage display option can reduce the need for paper menus and other items frequently disposed of without further action taken. One advantage of a display screen is that video and animated content can help draw attention to the products advertised. Your customers will be able to see what you have to offer without menus they may not want to handle.
Digital Signage Kiosks in QSR: Final Thoughts
Digital signage kiosks in QSR offer a wealth of options that can suit your business needs. There is no such thing as a one-size-fits-all solution as far as digital signage goes. There are, however, multiple solutions that you can use separately or together for the best results.
Finding out which solution works best based on your business' unique circumstances will make all the difference in your ROI. Using the right technology can also help you lead your business to the greater overall success that you'll see the effects of on a short-term basis. The greater the focus you place on finding optimal solutions, the better your organization's success will be.
You can learn more about NexSigns' Digital Signage solution and connect with us on Facebook, LinkedIn, Twitter, and YouTube to get the latest info on digital signage!