If you haven't gone digital yet, you are missing out on a major opportunity. Digital Menu Board are fast becoming the standard in menu displays and there are many reasons for it.
Quick-service restaurant operators around the world are getting on board and are looking to find the best solution for their establishments. With so many options out there today, it can be difficult to find the right fit.
Creating a budget for DMBs is even more difficult due to the range of products available. We've gone and taken out some of the difficult work and made a rough outline of what you might be looking at when you decide on:
DIY
Budget
Growth
Enterprise
Before we get into the facts and figures, we need to look at what you will be budgeting for.
Digital Menu Board Pricing & Budgets
Budget elements
We will discuss the budget elements below, but you can get more detailed information on our Ultimate Guide to Digital Menu Board.
Hardware
This item is specific to the functionalities you will be able to use with your displays. Before you can make a solid decision, you need to determine what the objective of your digital menu board is. Functions like dayparting, menu management, centralized control, or a static display or looping video are all features you will want to consider.
Your options here are USB, computers, or digital signage media players. USB is an excellent low-cost solution, that lacks functionalities and must be updated by hand. A computer is a pricy option that is bulky and takes up significant space. Media players typically land in between USBs and computers price-wise but contain all the digital signage functionalities you can think of.
To read more about the differences between these three, check out our digital signage hardware guide!
Displays
Your displays will be decided by the space availability, menu orientation, and other physical requirements. You will also need to look at features like resolution and color range.
Seeing that these displays will be out in the open, you need to take the bezels into account. Also, you need to determine what warranties you have available. Hardware malfunction can become super expensive.
Design
This is always an item that gets overlooked or underestimated. The fact is that a good-looking digital menu board will attract more people, so you can decide to DIY it, or you can get a professional to design your displays.
If you are going the DIY route, taking your current décor and color scheme into account is always a great place to start. From there on, your imagination can go wild and you can make an awesome display to either list your menu items or promote higher-margin items.
Installation
This is the final bit of the calculation that you need to make to get to your final price. The installation is directly tied to the hardware and display combination that you decided on. Regardless of budget, we highly recommend professional installers to prevent accidents and damaged equipment.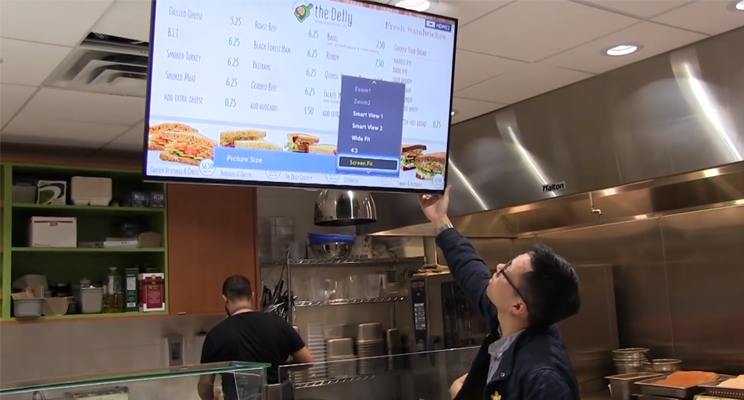 The Budgets
Before you read on, the digital menu board budgets are approximations only and relate to a single location. They will vary due to exchange rates and other factors like shipping, local pricing, and import taxes. This guide was designed to give you a rough idea of what you are looking at.
DIY
Although this is the most inexpensive route to follow, it is recommended that you only attempt it if you have the know-how and require rudimentary features. Furthermore, it would be advised to DIY only if you have a single location. It can be done with multiple sites, but management can become an issue.
Hardware ($20 – $30) – There is only one option for you and that is to go for the USB option.
Displays ($200 – $1800) – You'd want to go for regular consumer displays. And, depending on the space you have available, you will be looking to get one to three displays. The model you choose will have the highest impact on your choice, and the space, of course.
Design ($0 – $100) – If you have design skills, you are in luck as this will only cost you time. You might even know someone who will do it for free. If you still need to buy the design software or pay a designer, you'll need to dedicate some budget to this.
Installation ($0 – $300) – Again, if you have the skills to put up your displays on your own, go ahead. You need to weigh the costs and determine if saving a couple of bucks is worth the risk when doing it yourself.
In total, you will be looking at anything between $210 – $2,230.
Budget
This option goes to the people who want something to look good, but don't want to spend too much. If you have only one or two locations, this will serve all your purposes.
Hardware ($20 – $30) – Here you will also only need to go for the USB option.
Display ($200 – $1800) – For a family business, you also only need consumer grade products to get your display up and running. You will also only need around one to three displays. It all depends on the mounting space you have available.
Design ($350 – $800) – Here is where DIY is not going to cut it and you will need to ensure your designs fit your brand specifics and look good. Full-time designers charge by the hour with their skill and experience being the determining factor.
Installation ($100 – $300) – Professional installers will charge by the hour, but your setup won't take too much time. Regardless, getting someone in to do it is worth every penny.
In total, you will be looking at anything between $670 – $2,930.
Growth
Quick service restaurants with more than several locations need to have branded boards and a scalable management system across all their locations.
Hardware ($250 – $2000) – USBs don't cut it anymore and you need media players with easy content management across all locations. Do your research on your provided and ensure that they can cater for all your needs.
Displays ($1500 – 7500) – Commercial grade televisions are the only option that will make your brand stand out and are consistently reliable.
Design ($350 – $2000) – The bigger the job, the more you pay for design.
Installation ($200 – $600) – Similar to the other budgets, you'll need to bring professionals in.
To get you going, you will be looking at $2,300 – $12,100.
Enterprise
When you reach this level, you need the best and most current tech available.
Hardware ($250-$2000) – Scalability is a necessity.
Displays ($2000-$15000) – We'll be looking at the highest end commercial grade TVs here
Design ($350-$2,000) – Reputable designers will charge you quite a bit. But you can't afford a part-time designer to create and maintain the face of your brand.
Installation ($200-$600) – With an investment this large and managing so many locations, professional installers are a must have.
In total, you'll be looking at $2,800 – $19,600
You can learn more about NexSigns' Digital Signage solution and connect with us on Facebook, LinkedIn, Twitter, and YouTube to get the latest info on digital signage!