Did you know that digital signage in the United States reaches 135 million people each week, with 68% of consumers revealing that signage reflects the quality of products? Digital signage, with proper digital signage software, is a powerful communication tool that helps businesses keep target audiences engaged, resulting in enhanced efficiency and increased revenue.
Cloud-based digital signage software helps business owners and managers create diverse media while organizing screen displays and monitoring performance. However, finding the right digital signage software solution for your business can be overwhelming. In this blog, we will explore what is NexSign's digital signage solution and how it can benefit your business.
NexSigns – The Best Digital Signage Software
NexSigns is the digital signage solution of the future. Its powerful, user-friendly cloud-based software is designed for the needs of modern businesses, offering complete control of your digital screen content. NexSigns helps create a lasting first impression and effectively leverages the power of digital signage to transform your customers' perspectives.
Powered by the world's most efficient commercial-grade signage player, Nano-PC 3, NexSigns digital signage software delivers optimum performance throughout your digital signage network. The durable design, adaptable functionality, and reliable operations help achieve a higher engagement rate, better reach, and greater profitability. In addition, NexSigns enables marketers to design, schedule, and distribute their marketing collateral through a digital signage network.
Greater Scalability and Stability with Unique Features
With a wide range of industry-leading features built into NexSigns, you can manage and enhance your business operation, bringing your business to a new level.
Say goodbye to old, boring, and traditional digital signage solutions. We know that visuals receive 94% more views than text-based information. With the Image Slideshow feature, marketers ad business owners now have the freedom to display their brand personality in the way they want and create dynamic content on the fly. The simplified online platform allows users to turn static graphics into a dynamic slideshow with a series of stunning visuals.
This may sound simple, but the impact it produces is beyond comparison. Slideshows are highly customizable and easy to use; all users need to do is upload images to let the software weave them into engaging slideshows, creating eye-catching display content with enhanced animation and special effects.
With other digital signage software on the market, it is no surprise that users often experience frame drops or out-of-sync video and audio, which will result in a choppy video viewing experience. With the Nexsigns Video Playback feature, users will not see such problems because the algorithm helps decode HD videos smoothly in real-time and ensures complete alignment and precision when the frame appears. By doing this, the video and audio will always be in sync.
In addition, the Video Playback feature supports all popular video formats, allowing users to scale and optimize videos automatically without effort. The best part is that the feature helps play compressed video in excellent quality with no flickering, stuttering, or sudden black screens that may compromise the viewer's experience.
Did you know that NexSigns is the only digital signage solution that has the capability to feature live cable TV box signals and incorporate a cable TV feed or stream into the screen? It also allows users to source any video format such as Blu-ray!
In addition, The world's first software-based LiveTV feature works on all screen sizes without compromising the quality. Users can display their digital content campaigns with excellent visual quality while capturing attention to boost sales. For instance, restaurants can leverage the LiveTV feature to broadcast live sports games on-screen alongside their menu. 
With other software, creating a digital menu board isn't an easy task. Many elements impact the end-user experience, but NexSigns streamlines everything from positioning menu items to format and layout to deliver powerful capabilities to your marketers. The Smart Menu Editor (SME) is specifically designed to ensure your menu looks stunning no matter what you add or eliminate.
This special system has an advanced algorithm that determines the best layout without making it look messy or unbalanced. The intelligent software offers automation through the Intelligent Menu Positioning System (IMPS) and a cutting-edge algorithm that determines the best way to arrange elements on the screen. The result is simply stunning – a professional and attractive menu design – without the need for a graphic designer.
In addition, this will allow you to make as many adjustments and edits as you desire while preserving the visual template design and components. This can transform the way your business operates and keep up with the competition.

Editable Animation System
People simply love visuals and can process them 60,000 times faster than text, especially when the image is moving. Animated content, in particular, grabs consumers' attention in less than 1/10th of a second. This is simply the best and most effective way to increase awareness and engagement while driving viewers to take action.
NexSigns' Editable Animation System (EAS) lets you edit your digital signage content without changing the animation or motion effect pre-created by designers – it's just mind-blowing when you look at its potential. For example, if you have a hot coffee with steam animation on your menu, you can change the image to a hot soup while preserving the steam effect.
This flexibility gives you the ability to easily change your featured items without needing a professional graphic designer, giving you unlimited possibilities in your seasonal campaign marketing. In addition, NexSigns also offers a library of pre-made animation templates for you to edit and apply to your content. Your text and images will seamlessly fit into the high-quality animations.

Simple Playlist Creation and Scheduling
NexSigns offers complete control and flexibility with automated scheduling options. The digital signage software streamlines the planning and publishing process, allowing you to schedule your content for the future and stay ahead of your competitors. With NexSigns, you can set your digital signage to transition between months, seasons, or campaigns.
Not only this, the Dayparting feature ensures that your content always matches the time of the day. It allows full customization and adjustment depending on the time of the day to keep your digital signs relevant. Now you can inform your customers regarding special promotions and boost your sales by taking advantage of active dayparting and scheduling features.
Streamlined Remote Management
NexSigns' cloud-based digital signage software efficiently manages your entire network of digital signage displays, freeing up your valuable time so you can put it to better and more productive use. Remote management solutions are the key to the growth of your business operations, allowing you to manage multiple screens easily and conveniently from just one location.
Additionally, you can assign specific user permissions with varying levels of content accessibility, which delivers seamless multi-user network management. The remote management interface gives you access to all the signage screens and enables you to make changes in real-time.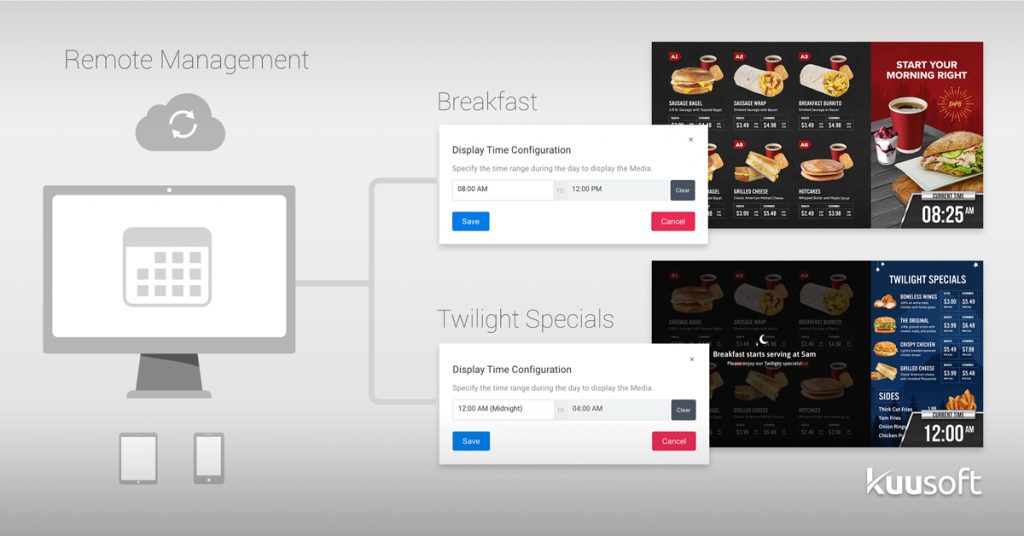 Playlist Inheritance System
NexSigns combines content sharing with digital signage to offer a Playlist Inheritance System that helps you sort your content according to the playlists you create, such as playlists for regional, national, or even branch locations. It seamlessly structures content in a hierarchical manner that your team members can easily share and edit.
The Playlist Inheritance system automates the entire content organization and sharing process. Whenever a change is made within the primary playlist, all sub-playlists automatically adapt.
A simple way to determine and exhibit the most relevant content is based on location. With NexSigns Display Persona System, managers and marketers can quickly display relevant content regardless of the location. The system incorporates persona configurations to simplify the distributed content.
You can now speedily identify and match the content that matches targeted attributes by filtering and searching for the most appropriate ones, which is the most efficient way to distribute content across multiple locations.
Our Remote Reboot feature is the ultimate safety net. In the digital world, no one can guarantee a glitch-free solution. Therefore, you can almost fix any digital signage issue with a simple reboot option.
In case something goes wrong, you don't need to worry, all you need to do is simply reset everything with the reboot feature. Note that you need Internet access to initiate the reset option. The Remote Reboot feature even offers customization that allows you to reset the entire system or a single screen.

Why NexSigns is the Best Cloud-Based Digital Signage Software?
Digital signage has the power to transform the way businesses promote and market their products or services, making it easier to spread their message across a wide audience in a vivid, captivating, and entertaining manner. Therefore, this approach offers a broad range of diverse business and marketing applications.
If you are ready to kick start your marketing efforts, try our cutting-edge, cloud-based digital signage software, NexSigns. Energize your digital content with dynamic and vibrant digital signage software to stand out from the crowd. NexSigns' digital signage software solutions help you efficiently reach your target audience and increase foot traffic. And it's great for delivering a personalized brand message in a way that stays with your customers for a very long time.
Partner with NexSigns and unleash your potential with creative and compelling promotional messages. For more information on how NexSigns can transform your business, schedule your free consultation today with one of our digital signage experts.