Nowadays, customer experience can easily build customer loyalty fast compared to the price-value perception. This truth is experienced in banks the most as well. This means that banks that still use traditional banking systems should upgrade to improve customer loyalty through experiences. Just like other types of businesses, banks also need to keep up with the latest technology to keep their clients happy when they access their services in their branches. This is where banking digital signage comes in.
Digital signs can help bank managers to show a lot of information in a convenient and accessible way. It also allows you to engage clients by offering them real-time data and, at the same time, saving workers from a lot of burdens. The article herein describes some of the benefits of digital signage in banks.
1. Brand Building
Your company is an essential asset to have in this competitive financial industry. Therefore, you need to use electronic signage for banks to support your brand and vision. Through digital signage media players, banks can now build trust and loyalty with their customers with financial transparency displayed on the screens.
Anything that you display on your website or your social media platforms as a bank can also be displayed on the media players.
However, electronic signs can attract attention faster compared to the use of static signs. Communicating information easily and efficiently to customers.
Visual contents help banks to generate customer interests and to raise awareness about services and products that may spark their interests. It also gives cross-sell and upsell opportunities for retail banking institutions.
2. Queue management
Queues can be disappointing as they waste a lot of time. Nowadays, retail banking organizations have also come up with a token-number-based queue system to help with queues. The system lets clients sit back and wait for their number to receive the services they want.
These management systems can also integrate into use with bank digital signage. The digital displays for banks can broadcast important information as they wait for their turn.
Your customers will enjoy the entertainment at the same time through advertising, investment tips, or even streaming news channels.
Banks can also provide answers to commonly asked questions through these screens.
3. Automation
Banks can now have a weekly schedule or a monthly plan prepared in advance. This helps managers to focus on other important issues of the bank's operations.
Firstly, the management system has a variety of tools that can be used to take off the burden from electronic signage managers. There are many more things you can do
4. Communication
Communication is an important aspect that has its roles in day-to-day activities in financial institutions. Similarly, bank digital signage can also help a banking institution meet its communication needs.
Banks can use signage for internal communication, training, policy updates, and reporting purposes. The screens located in different bank locations can improve internal communication with workers, establish collaboration among teams, and offer important information. Digital signage managers can also update the information in real-time and remotely.
Apart from internal communication, signage for banks help organizations to communicate proposals in an engaging and straightforward way. They also allow them to distribute content, promotions, and offers, and broadcast communication by time zones and regions.
The information displayed here does not have to be limited to institutional information. It can be merged with other financial systems as well. This way, messages become interesting to customers visiting the branch frequently.
5. Increased efficiency
One of the significances of digital signage is updating and managing the content of different branches of banks easily. Moreover, within a short period, you can identify what to display and display it without going there physically to each branch to update the information. Furthermore, this assists banks to save on costs and use their resources in other ways.
Other benefits of signage in banks include:
Improved in-branch experience
Saves paper
Employee engagement
Increased revenues
Nowadays, you can have banking digital signage designed specifically for your needs. All you have to do is look for a reliable company that will offer you the best signage solutions.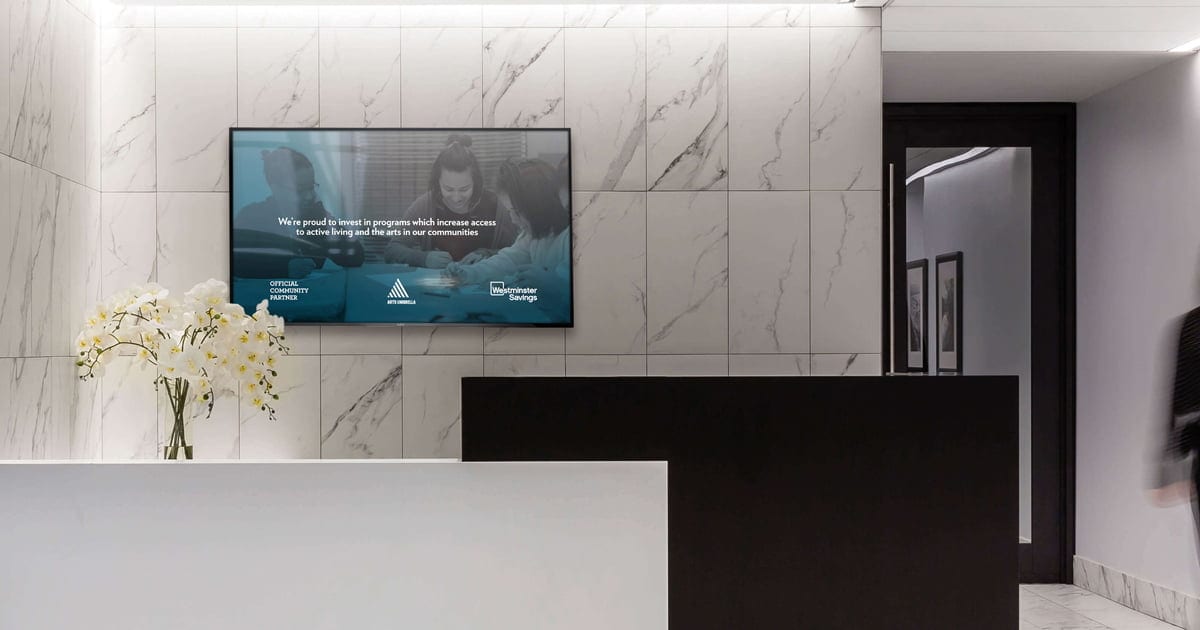 Frequently Asked Questions about Electronic Signage for Banks
Why is banking digital signage used?
Signage displays catch customer's attention in banks. They are also useful to convey important information instantly.
What is the cost of banking digital signage?
The charges for these signage solutions vary depending on the features you want and the number of screens you want. So, usually, the more features you will need, the higher the cost.
However, different signage companies provide different prices for their services. For example, NexSigns Digital Signage software has a one-flat rate, no tiers or hidden fees. Therefore, It's the perfect solution for any enterprise or banking branch location.
Are there types of electronic signs?
There are multiple categories of digital signage. Examples of the main types include:
External branding
Stand-off displays
Internal branding
Retail point-of-sell signage
Digital hoardings, among others.
Are the digital displays safe for banks?
Well, the answer is yes. Security is one of the major concerns for banking institutions. The banking network environment is more secure compared to the business LAN. However, there are layers of security and proxy servers that can develop issues with digital signs.
Media players connect with the back-end server situated on the premise or in the cloud. The data flow of banking digital signage may be complicated because there are restrictions on the public internet.
The only media player solutions that can work in this environment are the commercial-grade. They communicate through HTTP channels that are secured and compatible with the servers to ensure there is a free flow of data between the device and the back-end servers.
What is required for it to work?
For digital signs to work effectively, there are three components that must be there, for example:
User dashboard
Back-end CMS server
Media player
Although there are other components involved, these are the major ones. NexSigns experts can give you all the pointer you need, reach out to our team today!
What types of display screens would I need?
Most digital signage systems are compatible with any size and any display screen. However, your service provider will surely help you find the right display screen to meet your needs.
You can learn more about NexSigns' Digital Signage solution here. Connect with us on Facebook, LinkedIn, Twitter, and YouTube to get the latest info on digital signage!