With consistent menu changes and specials, digital signage technology makes it easy and cost-effective to showcase information. Digital signage can enhance the customer experience in any quick-service restaurant setting. People respond to it because it is eye-catching and versatile. 
The composition and layout can either act as a deterrent or an attractor for your menu boards. Using examples of two menu board displays from one location, we give some pointers on creating digital menu boards that will benefit your business. 
Planning
Before you even consider putting up your digital menu boards, you need to plan them carefully. The first step is to decide on your strategic goals and what sets you apart.
Perhaps you want to sell the message that you only use fresh products, and your food is healthy. Maybe you want your customers to know that they're getting good food at a great price. When you establish your goals, this steers all your future decisions.
Effective communication with customers is critical to getting them to buy. Digital signage is often viewed through a crowd, and viewers must make a quick decision on the information they see. This makes clarity and good design essential. 
Menu Design
Grid systems work well because they allow users to separate each item, and a clear color scheme using primary colors makes text and images more visible. As a rule of thumb, you should stick to three primary colors to avoid confusion. Fonts should also be chosen for clarity and make some text stand out and other less prominent text. 
Your menus also need to be adaptive and change according to the time of day or day of the week. For instance, a breakfast menu board will prominently feature hot drinks and breakfasts. If you have a special hot drink, this is the place to feature it. 
Showcasing Promo Items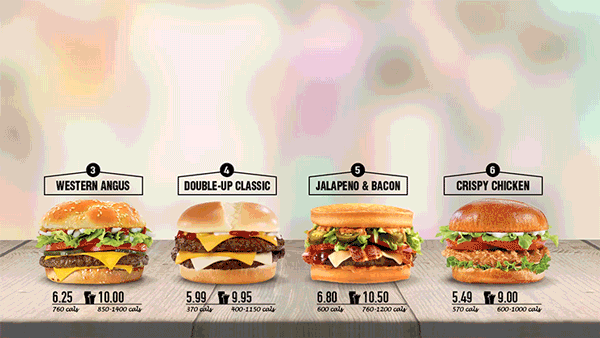 When showcasing promo items, adding a rotating section on top is a good way to attract viewers' eyes. Animated menu content is more eye-catching than static signage and can entice viewers to make additional purchases. In this example, items that complement the main items cycle in the rotating section, and as the gif rotates through the content, added effects like fire add "texture" to the design.
The regular classic items are shown below the rotating section. In this example, the combo pricing is integrated alongside the regular pricing. This draws attention to the savings customers enjoy when upsizing.  
Fonts
The use of fonts to emphasize certain items over others is important. In this example, you will see that the calorie information required by health regulations appears in a smaller, different font to the prices. If a restaurant emphasized nutrition and weight loss, its menu boards would feature the calorific information more prominently. 
No Time To Prep For Dinner?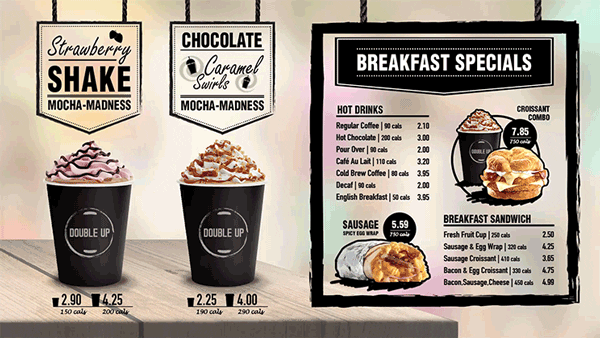 In this menu board example, we see the restaurant's various drinks with a special emphasis on two unique, limited-time offers.
This menu compresses a lot of the redundant information that a customer doesn't quite need to see. Everyone knows what a regular coffee looks like, but do they know what a Chocolate Mocha Madness with Caramel swirls is?
We can also see the same design attributes as the other design, with combos being compressed and calorie information appearing differently.
Special Tips
Firstly, the one thing that you want to avoid at all costs is to try and make everything stand out. If everything stands out, then nothing does. You must be selective and decide where you want the customers to focus. 
You need to be able to change pricing, menu items, and items based on availability, variable costs, and products' perishable nature. 
Engaging customers with animations, videos, and beautiful food images creates the most impact.
Moreover, using too many colors and fonts is counterproductive. So, stick to three primary colors and a few fonts to avoid confusion. 
Conclusion
Designing the right digital menu boards for your restaurant should be one of your top priorities, as it can boost your revenue to new levels. Getting the layout and featured content wrong could end up costing you money which is why you need to plan effectively.
You need to be able to schedule your content by day of the week or time of the day. Designing your menu boards smartly enables you to communicate with customers and make it as easy as possible for them to order. 
You can learn more about NexSigns' Digital Signage solution and connect with us on Facebook, LinkedIn, Twitter, and YouTube to get the latest info on digital signage!