Businesses and organizations use signage to share information with employees
and customers. This could be showing messages, advertising products, or getting
people interested in something. 
So, choosing the right digital signage software is important for doing these well. There are lots of options to choose from, so it can be tough to decide. 
Here are 5 things to consider when choosing digital signage software:
Effective digital signage is all about managing and updating content with ease. This is where a good content management system (CMS) comes in. Look for software that lets you create, plan, and edit content without any problems (ex. long loading time). 
Plus, it should support different types of media like photos, videos, text, and live feeds. With this flexibility, you can customize your content to fit your needs and keep it fresh and relevant.
For example, managing multiple locations is simple with a good CMS. It will let you quickly update product details, sales, and prices at all your locations. This streamlines marketing campaigns and increases sales with customization and informed decision-making. In fact, 89% of digital signage experts believe that CMS is the most important factor when picking digital signage software.
2. Templates & Design Tools
Visual appeal is a key factor for grabbing people's attention. Studies show that 73% of digital signage users believe design features are very important. So, choose software that offers customizable templates and design tools to make your content engaging and target the right audience. Look for features like:
drag-and-drop
ready-made templates
branding options
Software with customizable tools helps you design any branded content quickly but also leaves room to change and update it on the go (with an Internet connection). 
For example, you can make different variations of welcoming messages and company achievements with a few simple clicks. This saves you time and leaves a good impression on visitors and employees.
3. Compatibility & Integration
Efficient digital signage needs to integrate with existing technology. This means the software should be compatible with different devices like media players and screens. 
It's a good idea to look for software that can connect with other programs using APIs (Application Programming Interfaces). This improves overall workflow without spending resources to make different components connect.
More than 60% of customers make their decisions at the point-of-sale (POS). So, business owners use digital displays beside the POS to show their menu and special offers. A digital signage software that works with the main menu screens and the POS displays is then a must.
More often than not, you'll have digital signs in multiple places – but you can't be everywhere at once. That's why it's important to choose software that lets you manage your signs remotely. 
This allows you to control and check on your signs from a central location in real time. This ensures things run smoothly and resolves any issues quickly.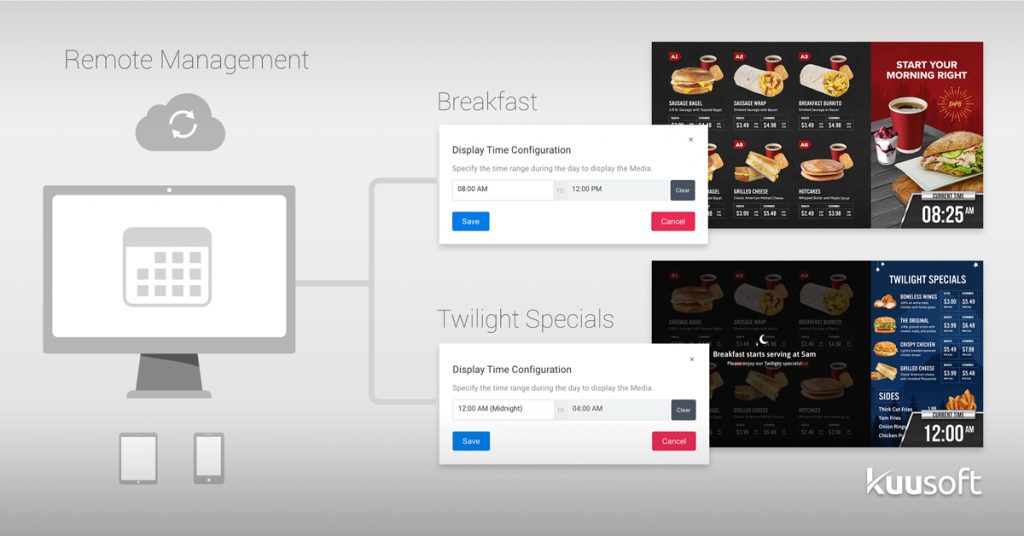 74% of restaurant customers say an effective menu board is important. So, to prioritize good customer experience including updated menus, prices, and promotions – choose digital signage with remote management. This way, your messages stay consistent and accurate.
To know if your digital signs are working well, you need to see how people are reacting to them. That's where analytics and reporting tools come in handy. Good digital signage software should give you comprehensive information, like:
audience engagement – how many people are looking at your signs
content performance – what content gets more attention
playback history – what your signs have been showing
These insights help you to update your content strategy and maximize the impact of your digital signage campaigns.
Studies show that 67% of customers buy based on digital signage visuals. So, with the right digital signage software you can analyze how many customers noticed your ad on the digital display. This helps you put important information in the right places and make the customer experience better.
Digital Signage Software: Take-Aways
Choosing the right digital signage software is a big decision for businesses and organizations that want to use visual communication. By looking at content management, design tools, compatibility, remote management, and analytics, you can make a smart choice that fits your goals and makes your digital signs successful. 
Remember that choosing the right digital signage software can make a big difference in how well your organization communicates, engages people, and succeeds.