Benefits of Digital Signage for Banks
Nowadays, customer experience can easily build customer loyalty fast compared to the price-value perception. Retail banks are experiencing the same as well. Customers need fast services, so banking institutions need to figure out how they will meet their customer's needs. Electronic signage for banks is the solution banks need.
This means that banks that still use traditional banking systems should upgrade to improve customer loyalty through experiences. Just like other types of businesses, banks also need to keep up with the latest technology to keep their clients happy when they access their services in their branches.
Digital signs can help bank managers to show a lot of information in a convenient and accessible way. It also allows you to engage clients by offering them real-time data and, at the same time, saving workers from a lot of burdens. The article herein describes some of the benefits of digital displays in banks.
1. Company branding
Your company is an essential asset to have in this competitive financial industry. Therefore, you need to use electronic displays for banks to support your brand and vision. Through digital signage media players, banks can now build trust and loyalty with their customers with financial transparency displayed on the screens.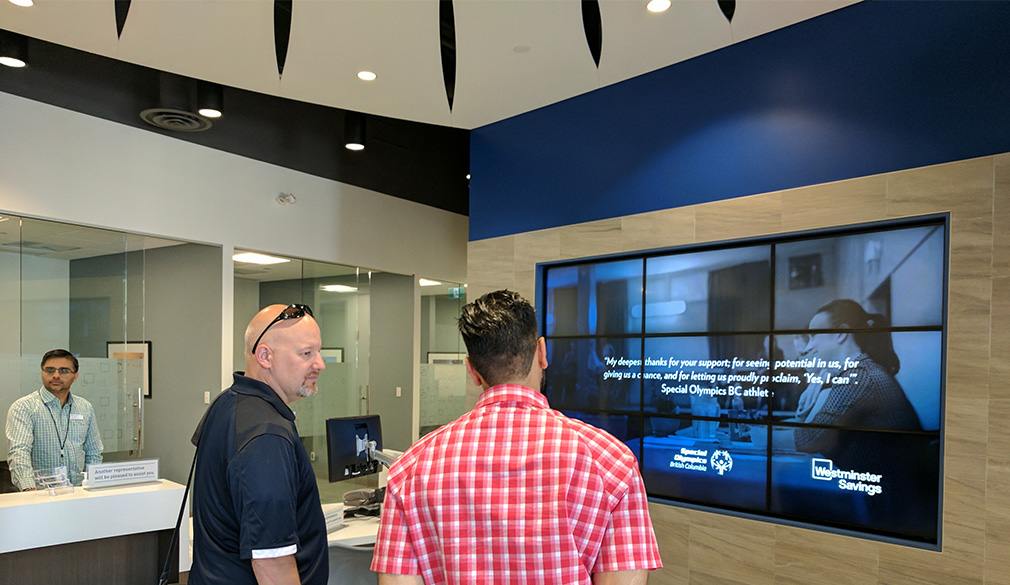 You can have the same information delivered at the same time across all the branches. Customers are also sure that they can get the services they want from any of your branches.
Anything that you display on your website or your social media platforms as a bank can also be displayed on the digital display media players. However, bank digital signage can attract attention faster compared to the use of static signs. Therefore, you can communicate messages and information easily and efficiently to customers.
Visual contents help banks to generate customer interests and to raise awareness about services and products. It also gives cross-sell and upsell opportunities for retail banking institutions, which we will talk about later.
2. Efficient and effective updates
One of the significances of electronic signs is its ability to update and manage the content of different branches of banks easily. Within a short period, you can identify what to display, where to display it, without having to go there physically to each branch to update the information. This assists banks to save on costs and use their resources in other ways.
Banks can now have a weekly schedule or a monthly plan prepared in advance. This helps managers to focus on other important issues of the bank's operations. Moreover, the integration of data and content subscriptions can display information on screens automatically without managers having to do anything.
In addition, the management system has a variety of tools that can take off the burden from digital signage managers. Powerful signage solutions can hold a lot of information by displaying on the screens. Information like current currency conversions rates and stock prices are crucial in the real-time display to avoid causing your customers inconveniences.
Most clients use bank signage as electronic clocks where they get to see date and time. You can use that chance to display the latest promotions that you might be offering, which will help in boosting your marketing.
3. Improved communication through digital signage for banks
Communication is an important aspect that has its roles in day-to-day activities in financial institutions. Similarly, digital signage solutions can also help a banking institution meet its communication needs.
Electronic displays help banking institutions convey a message to numerous customers in all branches through a single digital signage system. This makes information more relevant and communicates it to the right people.
Banks can use digital displays for internal communication, training, policy updates, and reporting purposes. The screens located in different locations of the bank can improve internal communication with workers, establishing collaboration among teams, and offering any important information. The information can also be updated in real-time and remotely.
Apart from internal communication, digital signage for banks help banking organizations to communicate proposals in an engaging and straightforward way. They also allow them to distribute content, promotions and offers and broadcast communication by time zones and regions.
Nevertheless, the information broadcast here is not limited to institutional information. It can be merged with other financial systems as well. This way, messages become interesting to customers visiting the branch frequently.
4. Better on-site/ In-store experience
With many financial operations being transformed into the online space, customer experience has to change from what it was a decade ago. Electronic signage offers banks the chance to create such an experience for their customers obsessed with screens.
Banks can also provide touch-screens to help clients access their account information or even browse other services provided in the bank. These touch-screens also assist banks in reducing workloads for their workers. Customers can seek help from these touch-screens before seeking help from tellers.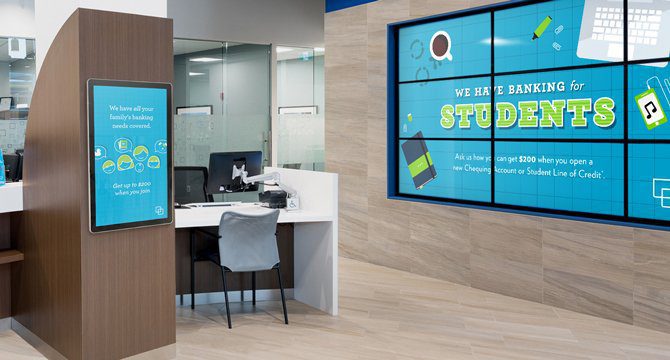 5. Up-selling and cross-selling to increase business revenue
Through digital signage advertisements, banks can reach out to their clients and potential customers. Advertisements can be displayed on the screens to on-site customers and take them through various products and services offered at your branch.
Selling in the waiting line
Queues can be disappointing as they waste a lot of time. Nowadays, retail banking organizations have come up with a token-number-based queue system to help with queues. Usually, the system lets clients sit back and wait for their number to receive the services they want. And these management systems can also be used together with bank signage.
The digital signage for banks can display important information as they wait for their turn. At the same time, your customers can entertain themselves through advertising, investment tips, or even streaming news channels.
Promoting products and services through digital signage in banks
If customers do not have enough information about your products or services, take advantage of that. Market products and services offered at your bank through dynamic messages, campaigns on screens, and media. Attract their attention and their interests through promotions on the screens. Furthermore, prompt the viewers to seek more details from representatives from the bank.
6. Healthy competition through a performance dashboard
Want to motivate your employees on hitting their target at each sprint? Then, use signage displays as a performance dashboard for your analysts, tellers, and any other staff. Creating a healthy competitive work environment can be beneficial to your branch's overall performance. Moreover, you can keep track of each department more efficiently.
7. Lowering marketing and advertising overhead
By using electronic displays, banks and financial institutions can reduce their cost of marketing. This is because financial organizations that use them can easily change from one marketing strategy to the other by updating content.
Plus, it will require fewer workers to manage display marketing compared to print advertising. This is because content can be made from one location. It helps to lower the operating costs of the bank.
8. Digital signage increases your bank's operational efficiency
Electronic displays save banks time and money. However, the information in financial and banking institutions keeps on changing. This needs fast advertising on various products or services. Print marketing may not be that efficient when it comes to such urgent information. And through the use of digital signage, banks will help save time, resources, and cost. So this is a win-win situation for your organization's social responsibilities and for your operational efficiency.
Digital Signage for Banks: Final Words
Are you looking for the best digital display service provider? NextSigns Digital Signage Solution is the right one for you. We have digital signs designed specifically for your needs. Most importantly, we can customize our services to meet your needs. Book a consultation with your account manager today!
You can learn more about NexSigns' Digital Signage solution here. Connect with us on Facebook, LinkedIn, Twitter, and YouTube to get the latest info on digital signage!