The future is digital, and the transformation is happening at an accelerated pace for the retail banking industry. This digital transformation has completely reshaped the customer experience and expectation, which opens a whole new world of possibilities. As a result, many retail banks, credit unions, and financial institutions are turning their conventional service centers into interactive spaces, with the help of retail banking digital signage solutions. 
Here are 7 ways that digital signage in the lobby can help elevate customer experience and maximize ROI in retail banking.
Best Tips to Improve Customer Experience with Digital Signage in Retail Banking
Unlike the traditional print materials and static signs, digital signage can display a variety of information in a dynamic, interactive way that instantly captures the customer's attention. It saves money in the long run and spares retail banks the troubles of printing paper materials every time a new campaign, or product, is launched.
In addition, digital signage requires very little manpower to manage, since its contents can be created and updated easily through digital signage software and shared across all branch locations. Banks with digital signage won't need to manually replace their promotion materials, from brochure stands to flyers and bulletin boards on the walls.
By keeping the in-branch environment paper-free, it creates a clean, sustainable, and modern brand image which can contribute to improving the overall customer experience with retail banking digital signage.
Implement a Strong Call to Action on Digital Bank Signage in the Lobby
Besides servicing their customers, digital signage can help banks in marketing to potential clients by increasing their awareness of current promotions. The most prominent benefit of using digital signage is that it leverages motions and can capture as much as 400% more views than the traditional static signs.
Incorporate compelling Call to Action (CTA) messages through eye-catching motion graphics on your digital signage and place it at high-traffic zones such as the bank lobby, entrance, and waiting area. Banks can drive their target audience to take the desired actions with digital bank signage in the lobby.
Provide Seamless Communications and Customer Experience
Customers nowadays are in much more control of their shopping experience. They have the means to explore, research, and share their purchase decisions at any time, anywhere, and they constantly seek more personalized interactions beyond just good customer service. This is when a digital signage solution comes in to take the stage, as it can offer personal, concierge-level in-branch experiences for customers. For instance, banks can create multiple customer avatars for each major demographic in advance. They can then leverage this information with digital bank lobby signage kiosks, or a digital display to provide customers with personalized content and service offers.
Digital signage offers convenience and streamlines the customer's decision-making process by providing them with the information they need, right at their fingertips. This innovative approach has proven effective in engaging customers and increasing foot traffic at branch locations.
Enhance Marketing Strategies With Digital Bank Lobby Signage
As previously mentioned, retail banks can use their lobby digital signage kiosks and interactive displays to offer personalized services. While customers are exploring these digital signs, the demographic information they input is being collected and logged into the cloud-based digital signage server at the same time. This enables banks to learn more about their customers' behaviors and preferences. They can then leverage this data to create and deliver personalized content, based on customer profiles, through multiple marketing channels, such as text messages, emails, and chatbots.
By proactively reaching out to customers in the retail banking industry with the latest promotions and services, which they might be most interested in, you can effectively generate higher conversions.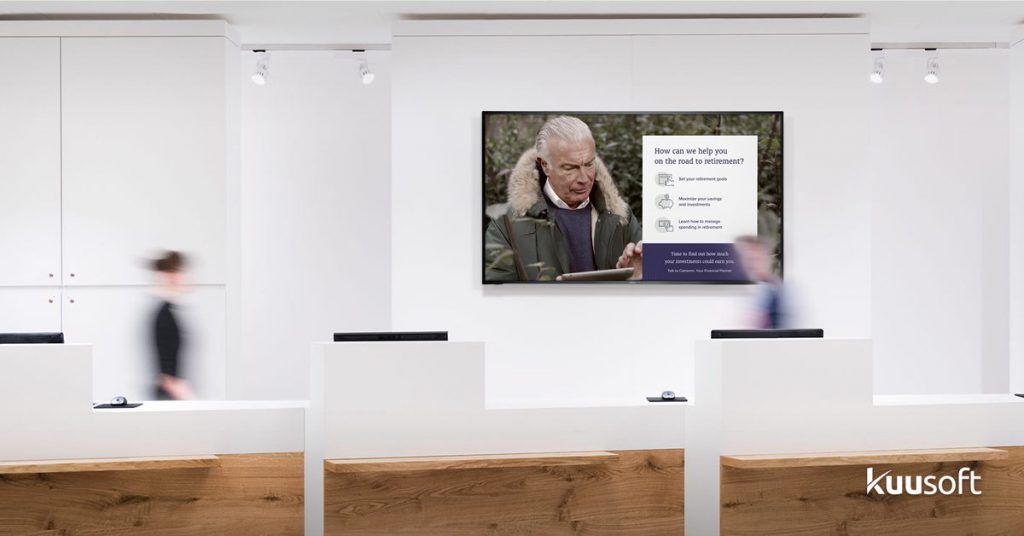 Efficient Queue Management
Queues and waiting lines are some of the primary sources of customer dissatisfaction in retail banking. Thus, how to make the waiting times less annoying for customers has become a real problem for banks to solve these days. The key is to draw the customers' attention away from the wait itself and minimize boredom, and banks can achieve this simply by deploying digital signage.
Place digital signage around sites where dwell times are the longest and use it to display various information and content to engage customers and reduce their perceived wait times. For example, displaying real-time financial information such as stock market details and currency exchange rates can keep customers informed, while weather reports, news, and sports games can provide them with entertainment. Integrating queue management information such as calling customers forward and showing estimated waiting times, is also an effective way to facilitate customer flow and enhance their in-branch experience.
In addition, banks can utilize digital signage to showcase their current promotions and increase the chances of cross-selling and upselling.
Reach the Right Audience at the Right Time
Using digital signage (such as video walls) makes it easy for retail banks to tell stories in a visually engaging way. Place screens in waiting for areas and play videos of how the bank's products and services have helped existing clients to achieve their financial goals. Let the stories connect with customers in a similar situation or life stage, and they will feel intrigued and want to find out more about the featured products.
To further maximize the effectiveness of this strategy, banks can gather and analyze data on branch visitor traffic and demographics during the day, and then decide what content to show on their digital signage. Keeping content updated and relevant is of the utmost importance when trying to reach the right audience, and a digital signage solution has made that possible in a few clicks.
On the other hand, the bank's vision, mission, and values can also be displayed on digital signage to reinforce brand identity with customers and increase their sense of loyalty and trust in the bank.
Empower Salesforce With Digital Bank Signage
Selling financial products involves a lot of presenting and explaining with numbers and graphs. Hence, it can be a very challenging task for front-line financial advisors if their communications with customers do not go smoothly. Digital bank signage can empower them with the tools they need to carry out effective communication and ensure customers receive the information they need to make informed decisions.
Digital bank signage gives financial advisors easy access to the bank's database and enables them to show the impact of specific products and compare them to other products on the screen. With the full-motion graphics and dynamic visuals, customers can quickly see the benefits and visualize their financial goals. This solution has a greater impact than presenting data on a piece of paper. Since all content is managed and updated in real-time from a centralized digital signage server, it lifts the weight off the salesforce's shoulders and allows them to concentrate on closing more deals.
Digital Bank Lobby Signage: Winning the Digital Transformation Race
Deploying digital signage solutions such as digital bank lobby signage kiosks, wall mounted digital boards, and in-branch digital displays do more than changing the look of a branch location. They contribute by elevating the customer experience, streamlining bank operations, and generating higher returns.
Technology advancement will continue to shape the way customers interact with financial institutions, so keeping ahead of their expectations will be extremely vital to retail banking, in terms of customer retention, in the future. If you're looking for experts to help you get started on a digital transformation of your branch, get NexSigns, the most powerful digital signage solution and our team of experts will help you reimagine your in-branch experience.