Auto dealerships around the country are discovering the big boost that digital signage can offer. That's because these versatile signs allow your dealership to display words, pictures, and videos with clear crisp reception. Not only that, but you can also quickly rotate, scroll or change messages on demand. In fact, digital signage may be the single most transformative marketing opportunity at your car dealership. Want to learn how to use digital signage? Here are six ways that you can use digital signs at your car dealership.
1. Current Car Dealership Promotions
Your dealership is always running promotions. That's why it is important to let your in-store foot traffic know what is one sale. With digital signage, you can rotate all of your specials as a point of purchase retail advertisement. Digital signs can show a photo or video of the vehicle along with bold graphics of the offer.
Some of the promotions that you can use for your digital signs include new and used vehicle promotions, service center promotions, finance deals, and more. Promotions can be one of those digital signage solutions that pay off big with a small investment of a few screens in your dealership.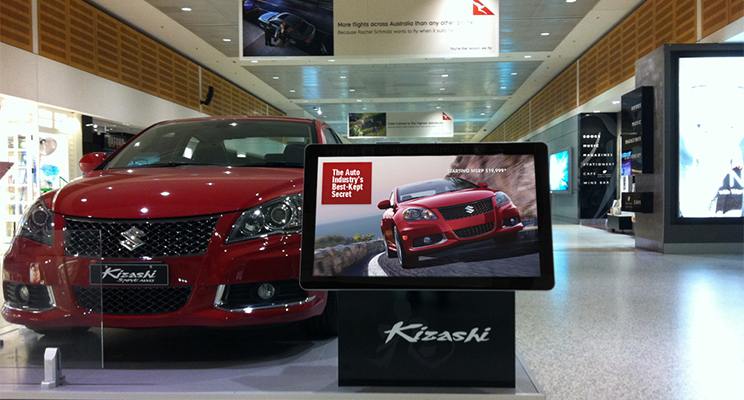 2. Tell Your Auto Dealerships' Story through Digital Signage
People are more likely to buy from a dealership or any business that they feel more familiar with. That's why so many dealerships are using their digital signs to tell their dealership's story. It's a great way to show off your heritage and add some social proof to your dealership's reputation.
When telling your dealership's story in your digital signs, you can use vintage photos and videos. You can also show your dealership's positive impact on the community, charitable giving and growth over the years.
3. Display Service Centre Menu, Specials, Customer Que and Wait Times
A dealership's service center is an important place to display up-to-date information. With digital signs, you will be able to communicate lots of important information to your customers. For instance, you can use digital signs to show off your last oil change promotion or seasonal specials.
You can also use digital signs for practical applications like showing the wait times for certain services. You can also inform customers when their vehicle is ready for pick up. Finally, you can display a rotating menu of services and current prices.
When your customers are in the waiting room, the digital display can also display important information such as the weather, news, financial information, and sports scores. The number of ways that you can use a digital sign at your service center is almost endless.
4. Show Your Current Commercials on Auto Dealerships' Digital Signage
Your dealership spends lots of time and money on commercials and automotive retail advertisement campaigns. Therefore, you should make the most of these productions. You can broadcast your commercials on your displays. These commercials can be very useful to remind customers of the deals that brought them to the showroom. Also, these commercials can do lots of selling for you. These commercials will reinforce the fact that your dealership has many deals available.
5. Explain Special Services and Promotions
Digital signs can also be great for "explainer" videos that can help some of your finance or service products. For instance, if your dealership is selling extended warranties, you can create a 60-second video explaining the value of the extended warranty These promotions can function as a sort of in-house ad for your products.
Also, you can use these explainer videos to help sell products in your service center. For instance, if you have a big parts center, you can create an explainer video on the importance of using OEM parts in vehicles.
Here is a list of explainer videos that you can create for your dealership and run on a digital sign:
Benefits of extended warranties
Importance of OEM parts
Benefits of leasing
Why buy a demo vehicle?
Five reasons to have your wheels aligned
Short term vs long term lease. Which one is right for you?
How often should you have your vehicle's oil changed?
Why you should have your check engine light checked right away?
Should I have my tires changed during the winter?
How often should I have my vehicle serviced?
Benefits of your dealership's CPO vehicles
6. Show Off Your Inventory
Digital screens are a great way to show off your dealership's new and used inventory. With a digital screen, you can use photos, videos, and rotating information to show off everything on the vehicle. This inventory listing program can be helpful for customers who walk into your dealership and may be wondering what vehicle is right for them. Also, these dealership listings can run in your service center waiting room to entice a current customer to trade in their vehicle.
The great thing about using digital signs is that you can use retail signage software to easily create and edit your dealership's inventory listing. In fact, you can make instant changes as you get new vehicles into your inventory. Rotating car inventory on these screens is one of the top digital signage solutions that can translate into real sales.
Where Should The Digital Signs Be Placed?
The great thing about digital signs is that they are flat, relatively lightweight, and can be installed just about anywhere in your dealership. You can place the screens in your showroom, your service center, on the exterior of your dealership wall, and even on a free-standing sign. Think of it this way – every digital screen is an opportunity to sell. These signs are literally like another member of your sales team.
The Opportunity to Quickly Test Your Sign Content for Best Results
The one big advantage of these digital signs is that you can test different offers and see what works. For instance, you can test two different oil change promotions on two different days of the week. The oil change promotion that has better results can then be rolled out to your e-mail, social media, print, direct mail, and broadcast campaign. You will be surprised by the many ways you can use digital screens to your advantage.
Getting the Most Out Of Point of Purchase Displays
From retail advertisement displays to explainer videos and helpful information, digital screens have been a boon for car dealers across the country. Best of all, the retail signage software is easy to use for your staff to change and update any information. There are endless ways to use in-store digital media to boost your dealership's business. Explore all the ways how to use digital signage and imagine what it can do you and your dealership.
Learn more about digital signage for dealerships and connect with us on Facebook, LinkedIn, Twitter, and YouTube to get the latest info on marketing with digital signage!