Your door swings open and a regular customer walks in. Or, instead, a curious potential customer stops by at the front counter in a food court. What do they see? Does your restaurant digital signage evoke an image of a modern quick-service restaurant (QSR) and make ordering easy? Or, should it be in the history books with neon tubes?
Regardless of where your QSR is located, the decision process always starts with the customers looking at your signage display. Whether it's digital or static, your signage is one of the most important assets in your establishment. Good design can decrease wait times, increase foot traffic, and improve customer satisfaction. Outperforming static signs by 72%, the route chosen by most QSRs looking to achieve a modern look is through restaurant digital signage.
In this blog, we will learn the benefits of digital signage for restaurants, especially quick-service restaurants:
Shortened restaurant wait time for placing orders and pickups.
Instant updates on menu items, adaptable to daily changes.
Attracting new customers with indoor and outdoor digital signage displays.
Higher customer satisfaction.
Keep the lines moving with intuitive digital signage
A study in The Journal of Consumer Behaviour found that customers don't mind waiting for their food to be made. However, customers hate the wait time to place an order. So, what slows down the order process and how can digital signs help speed it up?
Many new customers (and some regulars) have a hard time deciding what to order. This prolongs the QSR wait time and diminishes customer satisfaction. 3M discovered that this happens because text takes 60,000 times longer to process than images! With digital signage, QSRs can use rotating pictures of featured menus to highlight items. Thus, customers make faster and better decisions.
In restaurants where customers get to customize their order by choosing ingredients in a step-by-step process the advantage of images and animations becomes even stronger. A digital signage solution can walk a customer through the order process by animating each step of the process.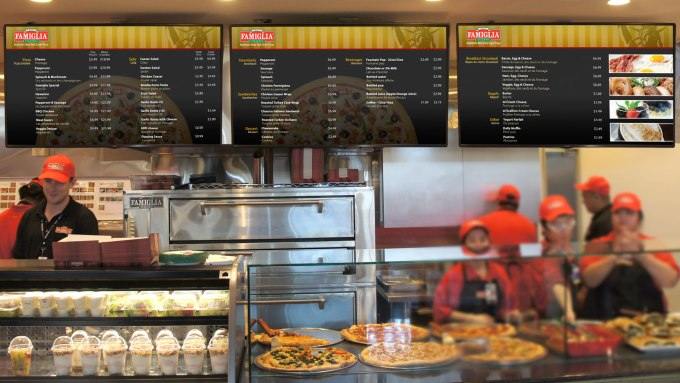 New customers can see what menu items look like and how the ordering process works. Meanwhile, digital menu boards still catch the attention of returning customers, intriguing them to try something new. That way, you can promote your higher-margin items.
For QSRs that offer curbside pickup services, outdoor digital signage can improve one's restaurant pickup experience with engaging content and clear instructions.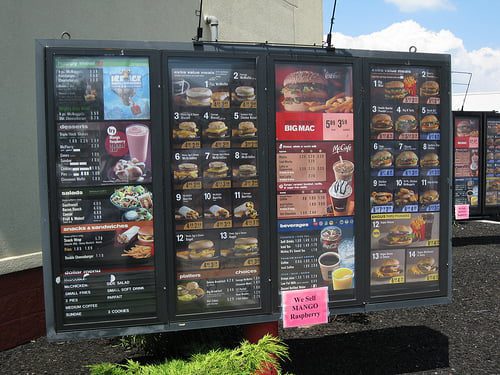 Restaurant digital signage adapts instantly for no cost
In the modern business environment, QSRs need to be able to adapt to daily changes and varying conditions. With static signage, a business's reaction speed is based on how long it will take to get new signs made. One also needs to factor in the cost of printing these traditional signs. All the additional costs make the advantages gained by adapting to changes more hassle than its worth. However, with digital signage, this cost is non-existent.
The ability to change digital signage for bars & restaurants instantly is a built-in feature in NexSigns. For example, if your burger stand has a lot of bacon this week, you can promote a Bacon Burger as a special with a few clicks. If you run out on an item, you can take it off-menu in seconds.
"NexSigns digital signage takes away the hassles of long waiting time when it comes to making changes to our menu boards. We can now make changes on our signage within minutes and from anywhere thanks to NexSigns."

Karl TangOwner, The Bubble Tea Shop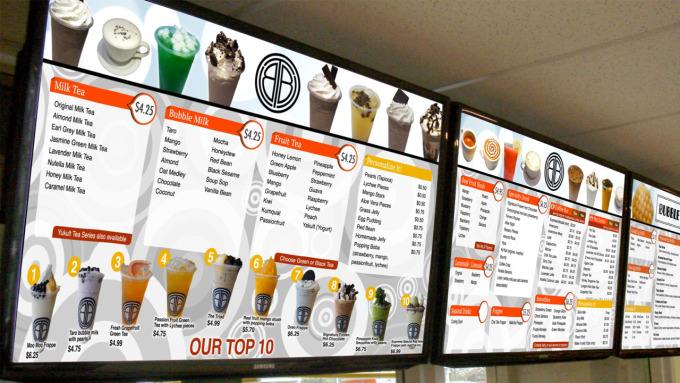 Draw customers in with vibrant colors and animations
In addition to decreasing customer wait times and increasing adaptability, digital signage simply looks gorgeous and draws customers in.
In an industry where competition is fierce and often close by, it is essential to draw customers eyes and attention. Nielson Norman Group found that the movement of animations draws attention, even when it is in a customer's peripheral vision. Kuusoft's graphics team creates eye-catching designs and animations that make digital signage "pop" and draw in passing customers.
"It's evident that the use of digital menu boards immediately triples the number of customers compared to other stores within the same food court. This is really the game-changer."

  Michael FavelleDirector of Operations, Fresh & Healthy Brands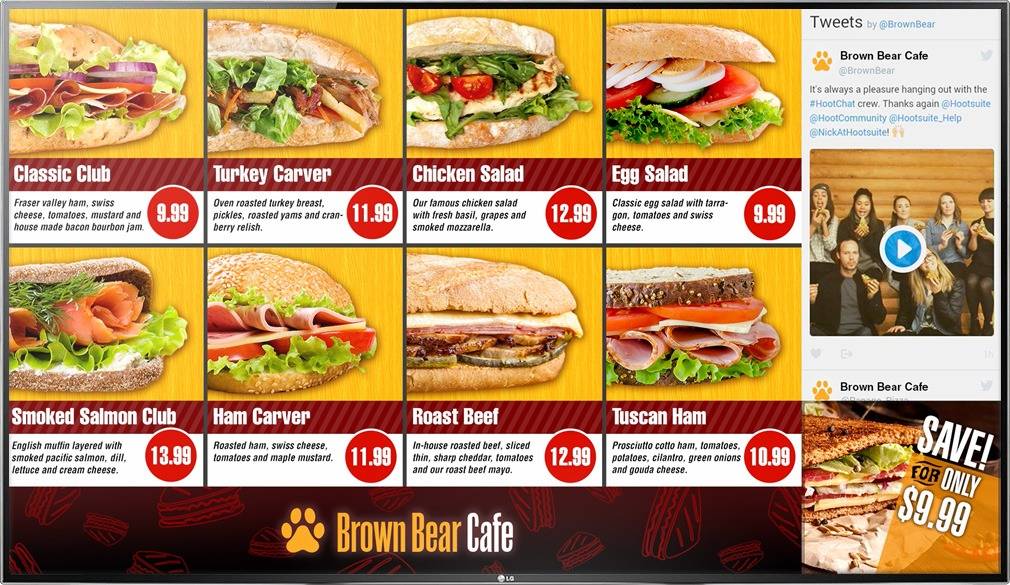 You might be interested in these blogs about QSRs & Restaurant Digital Signage:
Anatomy of a Digital Menu Board
The Ultimate Guide to Dayparting
How to Improve your QSR's Drive Thru Experience with Digital Signage
---