Wait — Single Queue System (General)
The Risk-Free Way to Manage Your Lineup.
Wait is the most cost-effective and safest way for retailers to automate lineups during COVID-19 with contact tracing built in. 
Serving tables and parties of multiple sizes?
Check out Wait Multi-Queue solution!
Create a Safer Way to Wait in Line.
Virtual queuing, people counting, contact tracing solutions all in one web-based application. No app download or subscription.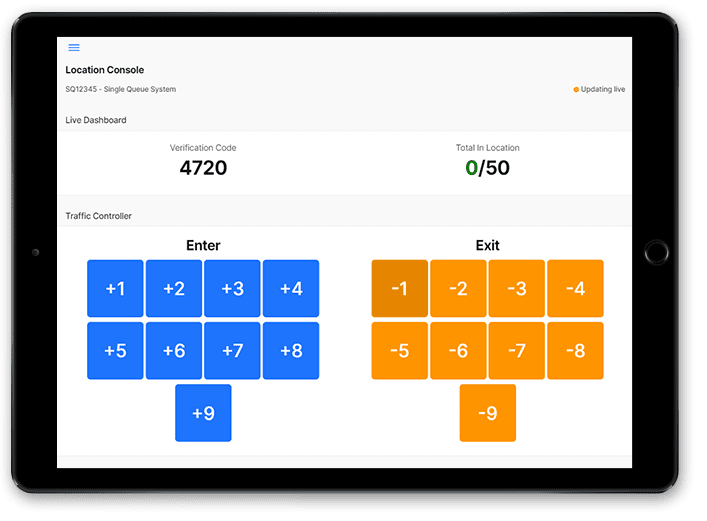 Keep Everyone Safe
Using Wait, we take your fuzzy crowd to a virtual lineup, so we can keep you, your customers, and their family safe.

3 Steps Setup
It's simple to get started with Wait. Register, create and start the Wait.

Reimagine Capacity Control
Single Queue System reforms the way businesses manage lineups and in-store traffic flow.

Ensure Social Distancing
Ensure the official guidelines are reinforced during the lineup process. Seamlessly direct customers without human labor.

Free to use
Usage for Wait is 100% free during Early Access. No credit card required to register.

Contact Tracing to Mitigate Risks
Protect customers and business operations with securely built-in and multi-degree tracing that preserves privacy.
Interested in knowing more?
Give us a call today to find out more!

Set up your profile and create a unique Location ID

Display your Location ID with ready-to-print Open Sign
Customers can now search your Location ID and join your Wait.

Access Location Console for your store

Notify customers through SMS when their wait is over

Remove customers from Wait when they enter
Repeat step
and
! Your customers can now enter safely and efficiently.
Registering for an account
Setting up your business account
Pricing Based On Your Successes.
Always know what you're paying for, at anytime, anywhere.
Serving tables and parties of multiple sizes?
Check out Wait Multi-Queue solution!
Yep. It's definitely worth the Wait. Got Questions?
Let us know the best time to give you a call.