For every quick-service restaurant, there is no better addition than digital menu boards. Both customers and restaurant owners know their benefits. They bring a modern and attractive atmosphere in the entire place.
You can drive revenue using promotions and effective upselling, but is everything that simple? Of course not. Selective placement plays a huge role.
Many food vendors make a mistake when it comes to positioning digital menu boards and other forms of digital signage by placing it in awkward or hard to see locations. To help you avoid these mistakes and grow your business, we've decided to cover the best ways to position your digital menu boards and other digital signage.
We hope the information will be useful to you. One thing to keep in mind that everything varies for each brand, location, and the goals you may have. Let's get started.
The Purpose of a Digital Menu Board
There is no-nonsense when it comes to the role of digital menu boards in quick-service restaurants. They attractively display the menu and generate higher revenue. The two basic ways quick-service restaurants benefit are:
Better display of each item. By running animations, you have a chance to present better your most popular or higher margin items on the menu. A price, description, and other details allow customers to focus on that particular item.
The chance to display more items. When you calculate the average time a customer spends in your quick-service restaurant, you can adjust the number of items you want to display. Print-form menus not only prevent you from emphasizing items, but they also can't house as many items as digital menu boards.
With a straightforward approach, digital menu boards make your entire menu more attractive and give the entire atmosphere an entirely new feel.
So, what's the ideal location for digital menu boards?
Near the point of sale, of course.
There are two main reasons for this:
Ordering while waiting. A large majority of people enter quick-service restaurants to eat "something." They're unsure about what to pick. To save them time, you should put the digital menu board near the POS to wait and think of an order at the same time. Customers easily become frustrated if they have to look at the menu and then wait in line.
Customer experience. If the digital menu board and POS are not near each other, you will have many problems with dissatisfied customers. They will become annoyed with the long wait times as other customers struggle to view the menu and may even leave your restaurant.
Therefore, it's safe to say that digital menu boards should always be position in the same line of sight as the POS. It's the most time-efficient combo. What about the mounting technique?
Depending on the interior, you can mount them somewhere on the wall. However, a ceiling mount has proven to be much more efficient and popular.
The POS Impulse Purchase
An effective way to play on your customers' impulse is to use tablets or other small screens right in front of the customer at the point-of-sale. This last-minute flash of information can contribute to a serious uptick in sales.
Emphasize upselling and encourage combos on your POS digital signage. Cross-selling options and loyalty programs are also great solutions. When the customer is ready to order, they will feel impulsive upon seeing a great deal or a combo. It's the basis of sales improvement for quick-service restaurants.
What About Promotional Items?
For limited-time offers (LTOs), you have to implement a strategy that differs from classic digital menu board placements and strategies. LTOs don't have anything to do with the POS-impulse. Instead, they have to create an impulse much earlier and entice customers with their novelty. The best way to accomplish this is to place it across all prominent locations and at every location within the facility.
If your LTOs are successful, you can even take a risk and put them as standalone images on digital menu boards. It's best to put them in a portrait position for these essential items since this orientation informs customers it is something to pay attention to. Now that they're visible, you have to present them unusually (different colors, contrasting background, or different font) to draw attention.
Window Display Options
If you have lots of foot traffic, there is no better option than using window digital signage. Just like promotional signage, they should be focused on promoting your best and most attractive menu items. However, there should be a particular emphasis on getting people to enter. Play on their curiosity and attract them to open your door.
More than digital menu boards within the restaurant, window displays have to be centered around design quality and attractiveness. People don't need to find out the ingredients or caloric info when standing in front of the restaurant. Instead, they should only focus on the image quality, pricing, or any special discount that you have to offer.
Before you opt for a particular strategy, you have to make sure external lighting sources do not wash out the display light. Specialized displays are available that counteract this ambient lighting and are well worth it. If your restaurant is in between buildings, then the display doesn't have to be bright (it's shielded from the sun during the entire day).
Dining Area Signage
To successfully interact with and engage your customers, it's not enough to have digital menu boards near the POS. The dining area signage differs a lot from other parts of the restaurant. It's not meant to target sales – the only purpose is to make the dining area more enjoyable and make meals more pleasant.
You should only include the most iconic content with a lot of branding – this influences purchase decisions during the customers' next visit. In addition to these elements, you can also include social media feeds or brand identity videos. Think of it as live TV.
If the dining area is not so spacey and requires a high turnover, avoid implementing digital signage here. Captivating content will make customers have a more enjoyable experience and take longer to finish their meals. Avoiding this advice may lead to customer turnover and capacity reduction.
Do you know we have a free eBook on The Ultimate Guide to Digital Menu Board? Download it today!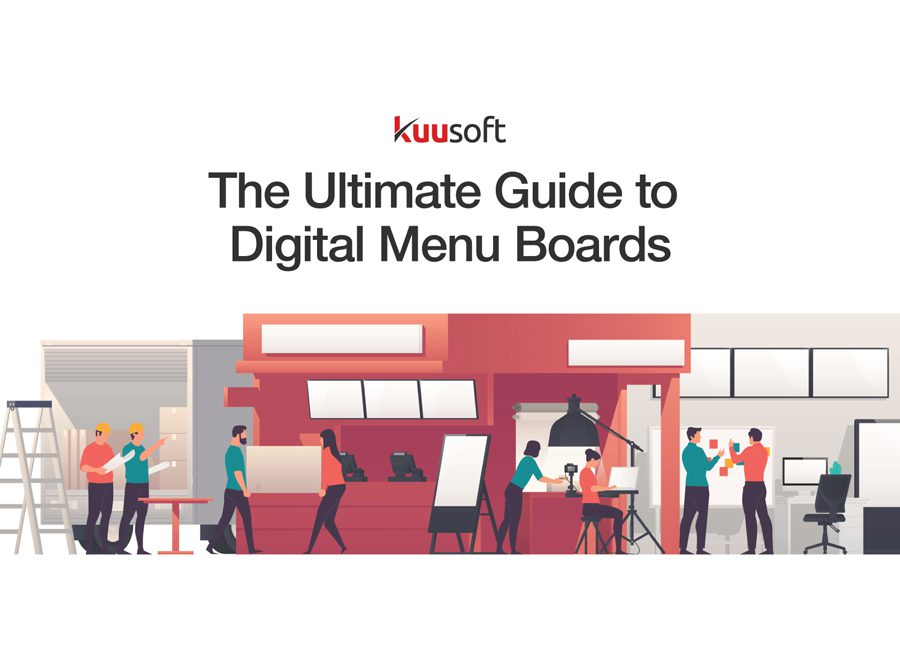 Concluding thoughts
There is a myriad of ways to apply digital signage for quick-service restaurants. Without any standardized factors, most decision-making depends on your brand, your menu, and the nature of the facility.
Remember that digital menu boards and other digital signage forms are to serve customer experience and give the customer what he or she needs. Suffice to say that high-quality images and videos are essential to have your digital signage function as intended.
You can learn more about NexSigns' Digital Menu Board solution and connect with us on Facebook, LinkedIn, Twitter, and YouTube to get the latest info on digital signage!